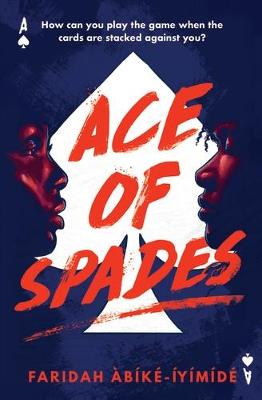 By Author / Illustrator
Faridah Abike-Iyimide
Genre
Suspense & Thrillers
Age range(s)
14+
Publisher
Usborne Publishing Ltd
ISBN
9781474967532
Format
Paperback / softback
Published
10-06-2021
Synopsis
An instant New York Times bestseller, ACE OF SPADES is Gossip Girl meets Get Out, with a shocking twist. Buried secrets come to light when two students are targeted by an anonymous bully with an explosive agenda. "Hello, Niveus High. It's me. Who am I? That's not important. All you need to know is. . . I'm here to divide and conquer. - Aces."  
Welcome to Niveus Private Academy, where money paves the hallways, and the students are never less than perfect. Until now. Because anonymous texter, Aces, is revealing the darkest secrets of two students. Talented musician Devon buries himself in rehearsals, but he can't escape the spotlight when his private photos go public. Head girl Chiamaka isn't afraid to get what she wants, but soon everyone will know the price she has paid for power. Someone is out to get them both. Someone who holds all the aces. And they're planning much more than a high-school game. . .
Unputdownable and utterly compulsive, this high-octane thriller takes a powerful look at institutionalized racism.
Reviews
Catherine
Ace of Spades is a High School drama the like of which you've not read before! Pretty Little Liars meets Gossip Girl doesn't quite hit the mark; those comparisons belittle the very sinister undertones and motives driving Aces, the anonymous shadow targeting Devon and Chiamaka. Devon and Chiamaka, the only two black students at Niveus Private Academy, establishment for the elite, the entitled, the wealthy.
In brief, Devon, having been awarded a scholarship to attend Niveus, is quiet and unassuming at school. He hasn't managed to feel that he belongs there, he doesn't fit in the corridors of this institution, but his mum is working several jobs in order to keep him there and the opportunity to apply to Juilliard is a driving force. Chiamaka on the other hand, is the undisputed Queen of the school, but you don't get that title without ruthlessness, politics and social manoeuvring; knowing she doesn't have the 'old money college connections' of her peers, she has to take every advantage she can to forge her own through achieving the position of Senior Head Prefect and benefiting from the bounty that title bestows. This doesn't make her immediately likeable to the reader, certainly garnered no warmth from me initially, but as her narrative progresses and that same drive and focus shifts to solving the Aces predicament, there's a definite, 'oh I get you' moment as the kick ass heroine we need emerges! Why do we need a kick ass heroine? Because Aces, it would appear, is out to ruin their reputation and all they've both worked so hard to achieve...
This is a no holds barred psychological thriller with an ensemble of characters you couldn't better. Faridah has done a fabulous job in weaving them through, supporting the main cast, as institutionalised racism, homophobia, bullying and class are laid bare. This definitely has the makings of a Netflix production! Also, loved that final line! Intrigued? If you like Juno Dawson, I think you'll like this.
480 pages / Reviewed by Catherine Purcell, school librarian
Suggested Reading Age 14+
Other titles