ACHOO!: A laugh-out-loud picture book about sneezing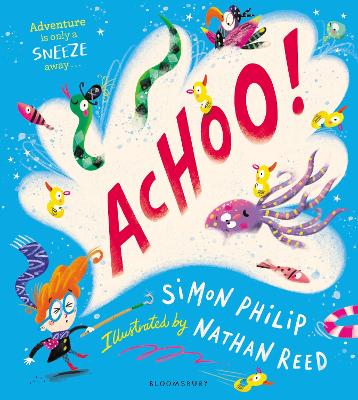 By Author / Illustrator
Simon Philip, Nathan Reed
Genre
Funny Stories
Age range(s)
3+
Publisher
Bloomsbury Publishing PLC
ISBN
9781526623737
Format
Paperback / softback
Published
04-08-2022
Synopsis
A hilarious book about the importance of ALWAYS covering your nose when you sneeze . . . and what happens if you don't!   You probably know it's good manners to ALWAYS cover your nose when you sneeze. But when Sid forgets this very simple rule, the consequences are WILDER than he could ever have predicted. Get ready for a laugh-out-loud, sneeze-driven joyride, featuring elephants, pirates, acrobats, giants, princesses and a whole lot of pandas. Sneezing will never be the same again! 
This joyfully anarchic, side-splittingly funny story is perfect for fans of You Can't Take an Elephant on the Bus and There's a Shark in the Bath.
Author Simon Philip reads from ACHOO!
Reviews
Ashley
The children in Year 1 loved this book, which made them laugh out loud at times. It is silly and at times a little bit weird and crazy, but the children had so much fun - like when an elephant popped out of someone's nose in a canoe! The children loved joining in with the sneezing and the word "Achoo" became louder and louder as the story continued.
We always enjoy a rhyming book too and the choices of rhyming words and vocabulary used are great. It's a perfect time of year to read this book out loud, too - coughs and sneezes are all over school at the moment - so could be used as an opportunity to revisit hygiene!
I am sure all children will get lost in the craziness of the text and want it reading again and again!
Picture book / Reviewed by Ashley Clayton, teacher
Suggested Reading Age 3+
Other titles