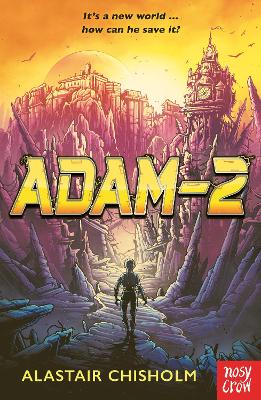 By Author / Illustrator
Alastair Chisholm
Genre
Science Fiction
Age range(s)
9+
Publisher
Nosy Crow Ltd
ISBN
9781788006101
Format
Paperback / softback
Published
05-08-2021
Synopsis
With incredible twists and turns and an action-packed story, this is a thrilling, unputdownable adventure.  The robot Adam-2 has been locked in the basement of a lost building for over two hundred years - until one day he is discovered by two children, and emerges into a world ruined by a civil war between humans and advanced intelligence.  Hunted by both sides, Adam discovers that he holds the key to the war, and the power to end it - to destroy one side and save the other. But which side is right?  Surrounded by enemies who want to use him, and allies who mistrust him, Adam must decide who - and what - he really is.  From the author of the highly-acclaimed Orion Lost, Adam-2 is an exciting and hugely gripping science fiction thriller - perfect for fans of Eoin Colfer, Anthony Horowitz, and Philip Reeve.
Q&A and Video with author Alastair Chisholm
Reviews
Aaron

- Age 11
Adam-2 is the story of a robot with AI caught in a world where Funks (robots who are made to command and do human jobs) and humans are war. The war was created by Adam-1 who reprogrammed robots to kill humans after the humans abused and mistreated robots. Now Adam-2's task to reunite both humans and robots is hard as he discovers he has the power to end the war. This presents a problem as to save one race, he must destroy the other. With great twists and an amazing plot, I would recommend this to anyone who wants to read a great Science-Fiction book.
304 pages / Reviewed by Aaron
Suggested Reading Age 11+
Mohammad

- Age 13
I really like Adam-2 as in the book he has to try to come to terms with everything and he has to try to get the humans to trust him and then decide if he is a funk or a human. The excitement, action and the twists and turns make this an amazing book.
Suggested Reading Age 11+
Idris

- Age 13
Adam-2 is a winding road of twists and turns, every turn of the page is another surprise, another shock. This book will capture readers of all ages. A truly brilliant novel, I look forward to more books by Alastair Chisholm.
This is the grim tale of future earth, ruled by powerful overlords created by the former most deadly being on earth- humans. Chisholm will take you into their world, a ghost of the former grandeur of Earth's cities, and the two perspectives - man and machine. Follow Adam as he discovers who he is, and his purpose in life, and the answer to this one question: Is he on the humans' side? Or the robots' side? I'll not tell any more, you'll have to read the book first…
Suggested Reading Age 11+
Nathan
Adam-2 is the first novel I have read by Alastair Chisholm and I am excited to read more. This thrilling science-fiction adventure novel kept me guessing the ending right up until the last page! Full of twists and turns, this is a fantastic read that opens your mind to future artificial intelligence.
The story begins with Adam-2 who has been locked in a basement for over two hundred years. Unbeknown to Adam, the world has seen the biggest civil war between humans and robots which has left it completely destroyed and struggling to survive. One day, Adam-2 is discovered by two humans, Runa and Linden, who are wary and confused to find a robot that doesn't want to kill them and appears almost human-like. Adam-2 soon discovers the world's current state and the continued war between humans and robots with both determined to wipe each other off the face of the Earth. Adam is challenged with the most difficult decision, which side should he choose? Can he repair the unrepairable? Who and what is Adam-2?
Throughout the story, I found myself unable to decide which side was truthful which gave me a real empathy for Adam-2, who appears to be doomed either way, and I had to continue reading. This is the first book I have read with non-gender specific pronouns which provides a valued opportunity to discuss gender and non-binary.
The story follows many different characters which all provide different view points for understanding and empathising with difference. Adam-2 is full of adventure with an exciting plot that changes direction repeatedly. I would highly recommend this book for children in KS2. It provides at excellent stimulus for balanced arguments, debates and dilemma writing as well as opportunities for setting description and sci-fi story writing.
Adam-2 contains many themes that run throughout the book including: trust, friendship, war and peace, gender and artificial intelligence. There are numerous ways this book could be used in a classroom setting!
272 pages / Ages 10+ / Reviewed by Nathan Cox, teacher
Suggested Reading Age 9+
Sharon
I have to be honest, this type of futuristic story isn't my usual read and I was a little reluctant to start reading this book. However, once I started reading reading, it kind of drew me in with the emotional rollercoaster that the characters go through.
Adam-2 is set over 200 years in the future where supremely intelligent robots and humans are at war. There are some really interesting characters who do not always do what you expect them to do and reveal their frailties as the storyline unfolds. There are some heart wrenching moments which are beautifully written… so have your hanky ready for this read.
I would find this difficult to read this aloud to a class of primary children, especially in my current school, since it may be too close for some, the still raw experiences some of our families. It would be distressing for them to listen to at the moment. For those mature year 6 children who love a great sci-fi read, this would be a great read, but it's definitely one for the teacher/parent/carer to read first.
272 pages / Reviewed by Sharon Porter, teacher
Suggested Reading Age 11+
Other titles