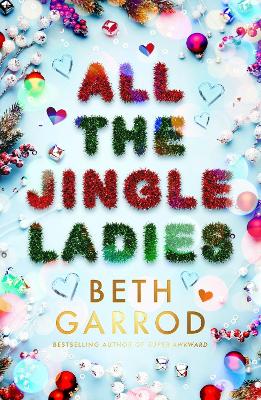 By Author / Illustrator
Beth Garrod
Genre
Romance & Relationships
Age range(s)
14+
Publisher
Scholastic
ISBN
9780702314162
Format
Paperback / softback
Published
13-10-2022
Synopsis
The brand-new snowy, festive, feel-good, rom-com from bestselling Beth Garrod, perfect for fans of To All The Boys I've Loved Before and The Kissing Booth. Molly hates Christmas. And it's not even her fault. Her mum and dad had the biggest ever Christmas single when she was a child, complete with video evidence of Molly in a hideous Christmas costume joyfully singing the mortifying last line that EVERYBODY knows. Molly has spent her life trying to play it down but then the song is used in the hottest new Christmas film. It's only November and it's already EVERYWHERE. And when Molly meets a cute guy at the premier, how can she stop him from working out who she is? But Molly isn't the only one hiding her real identity... will her Christmas romance turn out to have a Hollywood ending? Perfect for fans of cosy Christmas movies like The Holiday and Last Christmas. A heart-warming and humorous story to cuddle up with this Christmas Beth Garrod is the bestselling author of the Super Awkward series and All I Want for Christmas.
Reviews
Beverley
Molly Bell hates Christmas. When she was very young, her parents (aka The Brussel Shouts) wrote and released the world's cheesiest Christmas record, Love Your Elf, and Molly, dressed as a cute little elf, delivered the last line. Now 15, Molly dreads anyone finding out about this. If the secret gets out, her street credibility will be ruined, and she may lose the chance of being accepted as a member of The POWR, the cool band formed by some of her schoolfriends. Only Molly's best friend, Grace, knows about Molly's place in musical history.
Molly and Grace are organising a fundraiser for the local hospice in memory of Grace's late grandfather, Grampy G. and have just begun to sort out the details when Molly's worst fears become a reality - Love Your Elf is going to be featured on the soundtrack of the new Christmas blockbuster film, Sleigh Another Day. When Molly, her family, and Grace are invited to the premiere of the film, and Molly meets a cute guy, Christmas chaos is unleashed!
All The Jingle Ladies is a fun-packed festive treat, full of snow, reindeers and romance! Molly is a great heroine, funny and ambitious, but not vey confident in her abilities. The theme of friendship is strong throughout the book; Molly and Grace are a great team, always looking out for each other. When Grace is let down by her boyfriend, Molly says that they will avoid boys together, and become 'Jingle Ladies'. The novel also cleverly shows what an impact social media can have when misused, but also how it can be a force for good when used properly.
The story is very fast paced, moving from London to Edinburgh then back to London, via Molly's picture perfect home village of Bromster. Molly lurches from crisis to crisis as she tries desperately to keep her Elf Girl past a secret, even succumbing to being blackmailed along the way! The author injects plenty of humour into the book and the reader's interest is always held. The plot could have been seen as very far-fetched, but Ms Garrod's skilful hand ensures that it is totally believable. There are plenty of twists and turns before all misunderstandings are cleared away.
The finale of the story is wonderful. Grampy G's fundraiser is a triumphant success and Molly regains her confidence, her love of Christmas and finds a happy ending with the boy she is keen on. I particularly liked the author's device of using a newspaper article at the end of the book, which neatly ties up all of the loose ends and leaves the reader completely satisfied. I found myself smiling as I read this book (and laughed out loud quite a few times!). I am sure that this will be an extremely popular novel with teenage girls – and not only at Christmas!
400 pages / Reviewed by Beverley Somerset, school librarian
Suggested Reading Age 14+
Other titles