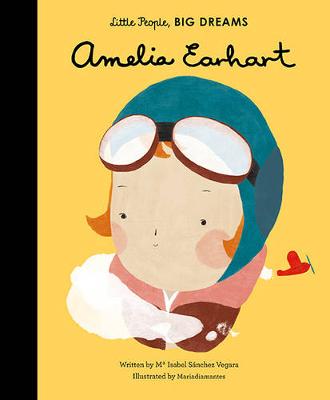 By Author / Illustrator
Maria Isabel Sanchez Vegara, Mariadiamantes
Genre
Adventure
Age range(s)
5+
Publisher
Frances Lincoln Publishers Ltd
ISBN
9781847808851
Format
Hardback
Published
08-09-2016
Synopsis
In this international bestseller from the critically acclaimed Little People, BIG DREAMS series, discover the life of Amelia Earhart, the American aviation pioneer.

When Amelia was young, she liked to imagine she could stretch her wings and fly away like a bird. As a grown woman, she set a new female world record for flying up to 14,000 feet. She also flew across the Atlantic and the Pacific oceans, and eventually undertook the most dangerous mission of all: to fly all the way around the world. This moving book features stylish and quirky illustrations and extra facts at the back, including a biographical timeline with historical photos and a detailed profile of the aviator's life.

Little People, BIG DREAMS is a bestselling series of books and educational games that explore the lives of outstanding people, from designers and artists to scientists and activists. All of them achieved incredible things, yet each began life as a child with a dream.

This empowering series offers inspiring messages to children of all ages, in a range of formats. The board books are told in simple sentences, perfect for reading aloud to babies and toddlers. The hardback versions present expanded stories for beginning readers. Boxed gift sets allow you to collect a selection of the books by theme. Paper dolls, learning cards, matching games and other fun learning tools provide even more ways to make the lives of these role models accessible to children.

Inspire the next generation of outstanding people who will change the world with Little People, BIG DREAMS!
Reviews
Nikki
Outlining some of the amazing achievements of a fearless young woman with a passion for flight, one in a series of picture books by Little People, Big Dreams based on famous women who achieved remarkable things. Amelia Earhart was the first women to fly up to 14, 000 feet, fly solo across the Atlantic and attempt a round the world mission. The balance just seems so right in this book. The text is kept simple throughout with just a few short sentences on each page surrounded by art like illustrations kept simple but meaningful. I really liked the end paper, like pages spread throughout the book. At the back of the book there is a useful 2-page biography and photo timeline for adult reference. With real photos of Amelia Earhart for the children to look at. As History Lead in a primary school, I have managed to excite other teachers in school with these stunning picture books. We are going to use these as a planning tool for a whole school History theme week focussed on 'significant historical figures'; as per guidelines in the NC programme of study for History. KS1 especially will be using this book along with some of the others in the series as a hook into learning about a significant figure in history. Amelia Earhart will support learning about transport and changes within living memory. All children across the school will be working to produce their own picture book (cross curricular writing) telling a historical story in the style of the 'Little People Big Dreams' series. These books will work beautifully as a stimulus for writing as well as a reference for research. Children in KS1 could use these as an accessible starting point to form a timeline of the lives of these individuals. A must have resource for all schools! Picture books / Ages 5+ / Reviewed by Nikki Stiles, teacher.
Suggested Reading Age 5+
Other titles