Attack of the Heebie Jeebies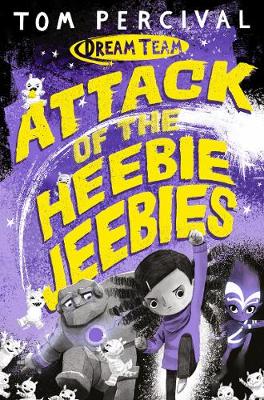 By Author / Illustrator
Tom Percival (Author/Illustrator)
Genre
Mental Health & Wellbeing
Age range(s)
5+
Publisher
Pan Macmillan
ISBN
9781529029154
Format
Paperback / softback
Published
02-04-2020
Synopsis
From Tom Percival, the creator of Ruby's Worry and the Big Bright Feelings series, comes a fun and engaging colour illustrated series exploring anxiety in children through action and adventure!

Meet the Dream Team! Turning nightmares into incredible adventures!  Erika's had a bad day. But going to sleep upset means bad dreams. She finds herself stranded in the Dreamscape along with a mob of hungry Heebie Jeebies - and to make matters worse, she's being hunted by a terrifying Angermare!  Enter the Dream Team! Can they help Erika overcome her worries and get home, or will she be trapped forever?  Dive into the Dreamscape with Attack of the Heebie Jeebies and follow up with A Case of the Jitters!
Discussion Notes for Attack of the Heebie Jeebies
Reviews
Jane
Tom Percival is another writer of extraordinary ability who can not only devise wonderfully weird story lines, but can illustrate them so amazingly well that we are drawn into every action- and emotion-packed scene as if we were really present in Erika's world.
At the start of Attack of the Heebie-Jeebies, that world is quite normal (for those who are used to the tiredness, jealousies and irritations of life with toddlers and older siblings). The world of Erika's dreams, however, is anything but normal. Even the Dream Team - Wade, Silas, Sim - have never seen the like. No one but Erika has made an inseparable connection with a 'heebie-jeebie' (who she calls hers Beastling.) Heebie-jeebies are to be feared and avoided almost as much as angermares, for they devour Dream Crystal which the Dream Team need for their rescue work. So, Madam Hettyforth must be summoned to see if she can sort this unusual case of a stranded girl.
Will Erika's anger be her undoing or will she discover she has a stronger power, one which can be deployed not only against the Angermare, but to bring peace to fraught relationships among her new friends and, most importantly, her own family? If she does, then she may yet get that game of football with Dad and see the funny side of brother Randall's baby antics.
This is a funny and astute book which will be enjoyed either as a class read in KS1 or at bedtime (as long as it's not too late).
192 pages / Reviewed by Jane Rew, school librarian
Suggested Reading Age 5+
Other titles