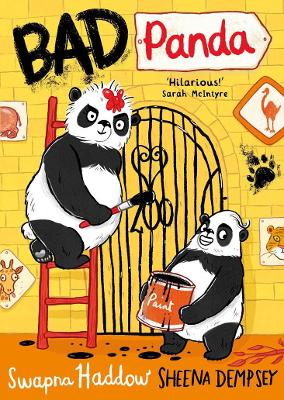 By Author / Illustrator
Swapna Haddow, Sheena Dempsey
Genre
Funny Stories
Age range(s)
5+
Publisher
Faber & Faber
ISBN
9780571352418
Format
Paperback / softback
Published
01-07-2021
Synopsis
Are you sick of being utterly adorable?Tired of being cuddled and hugged?Fed up of having your head confused for your bottom because you just so happen to be SOOOOPER-DOOOOOPER fluffy?Lin: If you answered yes to any of those questions, then you're in the right book.Everyone thinks that Lin is the cutest panda in the world. So much so that they ship her off to the local zoo, away from her beloved brother, to be ogled at by the masses. But Lin HATES being cute, and now she will do everything in her power to prove that she's the baddest, meanest, most un-cute animal in the zoo.Laugh-yourself-out-of-bed hilarious, the first in a new series from the creators of DAVE PIGEON.
Reviews
Amanda
Nobody, absolutely nobody, calls Lin a fluffy-wuffy bear! Lin is the world's fuffiest panda and the main attraction at the zoo but it is the last thing that she wants. 'Being good is boring!' she complains. The one thing that she want more than anything is to play with her brother Face-Like-A-Bag-Of-Potatoes. When she gets sent to another zoo she makes friends with Fu and decides that being good has not got her anywhere - so the way to get back to her brother is to be the worst animal in the zoo.
Bad Panda, a brilliantly funny story, is written in a way which attracts the younger chapter book reader with a mixture of cartoon style and well spaced prose. The wonderful illustrations add to the humour of the story through characters facial expressions. A must read story.
192 pages / Ages 6+ / Reviewed by Amanda Shipton, teacher
Suggested Reading Age 5+
Other titles