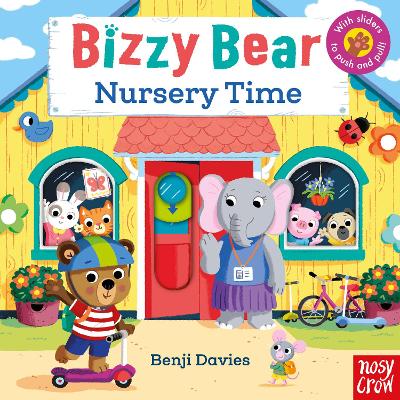 By Author / Illustrator
Benji Davies
Genre
Baby & Toddler Books
Publisher
Nosy Crow Ltd
ISBN
9781839947544
Format
Board book
Published
06-07-2023
Synopsis
Robust, busy board books to entertain babies and toddlers with five easy-to-use sliders, a rhyming story and lots to spot and say in this series of bright, interactive board books for toddlers!
This story needs YOU! By pushing, pulling and turning the mechanisms, little hands can move the story onto the next scene and bring the rhyming text to life! The high level of interaction builds confidence and engagement with books, which is a key stepping-stone to reading for toddlers.
Illustrated by multi-award-winning Benji Davies, illustrator of The Storm Whale, and Grandad's Island. Collect the whole series; other title available include: Bizzy Bear: Breakdown Truck, Bizzy Bear: Fire Rescue, Bizzy Bear: Racing Driver and lots, lots more!
Reviews
Jessica
Bizzy Bear: Nursery Time certainly is a busy book! My one-year-old and I are still discovering more and more stories to tell within the illustrations as we embark on our 5th read! This book fits perfectly to the well-known tune of 'Teddy Bear, Teddy Bear, turn around…'. With 'Bizzy Bear, Bizzy Bear' learning, reading and playing, painting a tree and exploring outside. This familiar repetitive tune lends itself perfectly to the littlest ones joining in with and bobbing along to the story.
This board book is also visually extremely stimulating. On just the first single page we can embark on conversations about Cat hanging its coat on the peg, Rabbit whooshing water on the water table, Frog playing with a floating boat and Dog reading a book for pleasure. Now let's look even deeper on this page… there are drawings children have done at nursery stuck on the walls. What have the children drawn? There are drawers with labels on. What might be inside these drawers? There are puddles of water on the floor! Where did it come from?
I cannot even put into words how much there is to talk about on every single page. There are even pull and slide tabs to interact with, to send a train around a track, paint a picture and push Bizzy Bear down the slide! If the illustrations and rhythmic text weren't stimulating enough, Nosy Crow have even provided a QR code for this book!
This book lends itself perfectly to help prepare a child who may be joining nursery, any day care setting or starting big school in September to stimulate conversation about what they might experience. Does your little one struggle to tell you what they've done each day at nursery? This book can be used once these transitions have taken place to help a child communicate what they learnt about, played with and saw in their childcare setting each day.
This book gives children the tool to have a voice and recall their own personal experiences in a similar setting, which I believe is priceless! Get ready to enter the busy world of nursery… over and over again!
Board book / Reviewed by Jessica Bunney, teacher
Suggested Reading Age 0+
Other titles