My Garden (My World in 100 Words)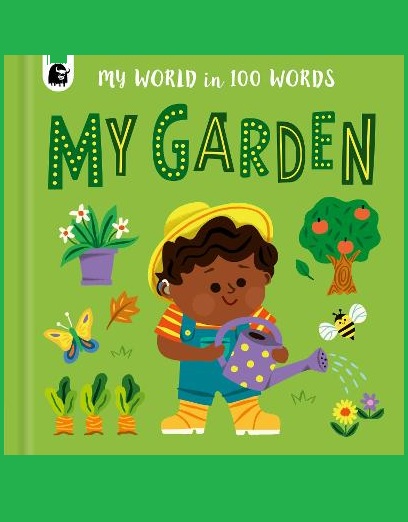 By Author / Illustrator
Marijke Buurlage, Happy Yak
Genre
Baby & Toddler Books
Publisher
Happy Yak
ISBN
9780711257238
Format
Board book
Published
15-03-2022
Synopsis
Leaf, flower, tree, snail, bee... introduce your little ones to the words they'll encounter all around them in the garden.  My Garden in 100 words introduces a range of different scenes and objects. With bold colours and a silky-feel cover that add visual and tactile interest, this fun book inspires a deeper knowledge of the world, introduces language skills and supports emotional intelligence.  Take your children on a journey through the seasons, exploring the garden in Spring, Summer, Autumn and Winter. The vibrant and fun illustrations will help introduce kids to new words, from vegetables to garden animals as well as feelings, items and actions.

An original, contemporary take on teaching first words, the My World in 100 Words series of board books helps children ages 1-3 boost vocabulary, engage with the world around them and become familiar with specific subjects.

With bright, playful illustrations, each book explores a different theme, including starting nursery, the home and the seaside. With 10 words per page and variation between full scenes and visual lists, there's plenty for children to look at and enjoy.
Reviews
Jessica
My World in 100 Words: My Garden has introduced me to a series of books from Happy Yak which focus on teaching children their first words in a fun and memorable way. There are many more available including: My Home, My Nursery and Seaside. In each book, children are introduced to the names familiar objects found in that context to help teach them useful vocabulary.
I have had this book for three weeks now and I have honestly lost count of the amount of times my seven-month-old baby and I have enjoyed this book. We have sat in the garden together many times and looked at the illustrations whilst I repeatedly say each object's name as we go. This prompted me to take her for a walk around our garden to point out some of the things that are both in the book and in our garden.
I look forward to using this book in this way all year round as it shows us gardens in each season. Walking through the illustrations and naming them as we go has encouraged me as a new parent to pick up other books we have at home and simply name objects I see on each page to use those book in a fun, new way. This book provides writing and language opportunities for school-starters too. As a teacher of a reception-aged children, I would use this book as a 'word bank' to encourage story writing or to give children tools to write about their own outdoor experiences.
As for the whole collection, I look forward to using these books in a 'treasure hunt' style as my baby grows to see if we can find all of the objects on each page. That also gives me a great excuse to get out the 'lounger', a 'drink' and the 'barbecue' on a summer's day!
Board book / Reviewed by Jessica Bunney, teacher
Suggested Reading Age 0+
Other titles