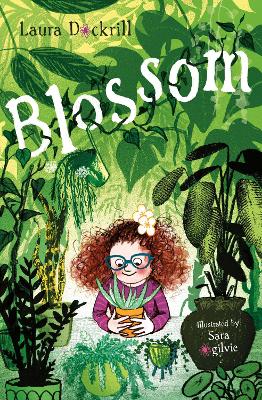 By Author / Illustrator
Laura Dockrill, Sara Ogilvie
Genre
Friends and family
Age range(s)
7+
Publisher
Barrington Stoke Ltd
ISBN
9781800900233
Format
Paperback / softback
Published
02-09-2021
Synopsis
Blossom has grown up surrounded by the beautiful plants and flowers from her family's market stall. The stall was started by her grandparents, Tutu and Pops, and passed on to Blossom's parents after their death. It's a magical place where customers come to find flowers for all occasions: from celebrating love to offering comfort in times of sorrow. But now the stall is at risk, with tension rising as Blossom's parents argue about the future. Can Blossom call on the lessons she learned from Tutu and find a way to cope with the dramatic changes that are happening around her. Can she save the flower stall?
Acclaimed author Laura Dockrill sows seeds of hope and community at the flower market in this heartfelt, lyrical tale of family life and change. This book features a dyslexia-friendly layout and font, and illustrations throughout so that even more readers can enjoy it.
Reviews
Beverley
Ten-year-old Blossom lives with her parents in a house where every room, including the bathroom, is full of plants - Blossom 'can't even do a wee in peace!'. Blossom is going through a lot of upheaval in her life; she has recently lost both of her beloved grandparents, Tutu and Pops, she is about to go to secondary school, and her parents are constantly arguing.
Blossom's dad runs a flower stall at Peacham Garden Flower Market, which he has inherited from his late parents. Blossom loves to help out there, and during the summer holidays has been going almost every day with Dad. Her mum is not so keen, as she is studying Chemistry at college and resents the time she has to spend at the market. She is exhausted by her busy life and this is causing problems between her and Dad.
When Blossom overhears her mother saying that Dad must sell the market stall, she is devastated and lashes out at Mum, calling her selfish. Can Blossom find someone else to help Dad run the stall, or will her family be torn apart? This is a lovely story with a very appealing heroine.
Blossom is funny, loving and loyal. She wants to make sure that her grandparents' heritage is kept safe, but worries that her parents may separate if they cannot find a compromise. She gradually comes to see her mother's point of view, and realises that adults can have dreams too. We also see how Blossom, and her father, learn how important it is not to judge people at first appearance. Gilda, an old lady who wanders around the flower market every day without buying anything and is nicknamed 'snoopy' and 'a time waster' turns out to be kind and caring, helping Dad to solve his problems in a way in which Blossom could never have imagined.
The book is funny - the section describing Dad interviewing potential helpers for the stall is so well written - and also very moving. The author includes a chapter telling of Blossom's last talk with her grandmother, Tutu. Blossom tells her that she is scared of losing her; Tutu replies 'How can you lose someone when their roots are linked with yours, when they are a part of you? It is impossible.' Such a perfect way to describe loss to the younger reader.
As always with a Barrington Stoke title, the book is printed in a dyslexia-friendly format, making it accessible to all readers. The illustrations, by Sarah Ogilvie, complement the story perfectly and give a real insight into the bustling flower market so well described by the author. This is a delightful book, with a real sense of family at its heart, and I am sure it will be much enjoyed by readers of 8 and over.
96 pages / Reviewed by Beverley Somerset, School Librarian
Suggested Reading Age 9+
Other titles