Caterpillar Cake: Read-Aloud Poems to Brighten Your Day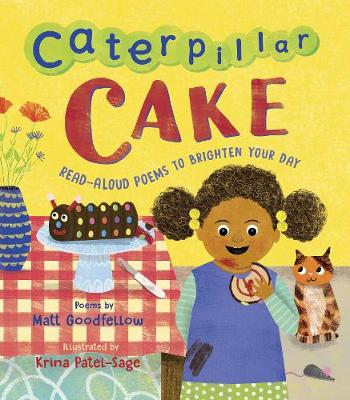 By Author / Illustrator
Matt Goodfellow, Krina Patel-Sage
Genre
Poetry
Age range(s)
3+
Publisher
Otter-Barry Books Ltd
ISBN
9781913074661
Format
Hardback
Published
05-08-2021
Synopsis

caterpillar
caterpillar
caterpillar cake
it's the only thing
that my mum can make
Would you like to eat a caterpillar cake? Join a rocket race into space? See crazy crocodiles at the zany zoo or play with a furry, purry cat? Wherever these 16 fun-filled poems lead you, they will brighten your day.  Splashing at the seaside, storytime at school, playing in the bath or riding home on Daddy's shoulders - this brilliant, read-aloud collection for young children has lots to join in with and lots to explore in the brightly coloured illustrations.
Reviews
Alison
No sooner than I've finished reviewing (and loving) the CLIPPA short-listed Big Green Crocodile, than along comes another wonderful collection of poems for very young children, Caterpillar Cake. This time, the author (also short-listed for CLIPPA for Bright Bursts of Colour is Matt Goodfellow, whose sprightly verse is accompanied by Krina Patel-Sage's skilful and authentic illustrations.
The title poem, 'Caterpillar Cake' (p.4), makes for a great opener: robust rhyme, repetition, alliteration and the yuk factor (the cake is filled with 'caterpillar goo'). And check out the eyes in Patel-Sage's illustration, especially the cat looking steadily across at a mouse lurking under the table.
These really are poems to be read aloud. Poems like 'Let's Go!' (p.8), 'Hide and Seek' (p.14) and 'On the Carpet' (p.20) clamour to be lifted off the page and also offer tantalising opportunities for children to generate their own ideas prefaced by the repeated lines ('Let's go!' and 'On the carpet').
Word play abounds. There's the fast-paced 'Kitty Cat' (p.26) and Zany Zoo' (p.10) is a counting down rhyme featuring '5 crazy crocodiles' down to '1 fat frog'. Patel-Sage excels here with expressive animal faces for the '3 tough tigers' (they really are trying to be as tough as baby tigers should be!) and '2 moody monkeys'. They are so sulky!
In contrast, there's a sweet simplicity to 'Little Boat' (p.7) and to the lovely finale, 'River Lullaby' (p.28) with its refrain: 'hush little shush little / rush little river'. Echoing the journey in the words (from 'cityscapes' to 'dawn-dressed sea', the illustration depicts a river wending away from high-rise buildings. A solitary figure carries a child on his shoulders; a swan sleeps and a sparkling night sky is reflected in the blue of the river.
32 pages / Reviewed by Alison Kelly, consultant
Suggested Reading Age 3+
Other titles