Clash of the Rival Robots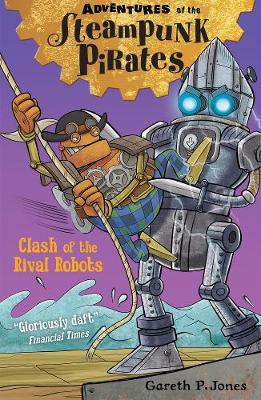 By Author / Illustrator
Gareth P. Jones
Genre
Adventure
Age range(s)
7+
Publisher
Little Tiger Press Group
ISBN
9781847156068
Format
Paperback / softback
Published
13-08-2015
Synopsis
Wanted: Dead or Alive! (Or smashed into little bits and delivered in boxes.)
The Steampunk Pirates are lured back to England by the promise of gold. But the appearance of their inventor, Mr Richmond Swift, signals big trouble. He has a new army of robots and it's not long before sparks begin to fly. Have the pirates finally met their match?
This hilarious new series from Gareth P. Jones, author of Ninja Meerkats, is sure to delight young readers with its madcap humour and larger-than-life robot pirate crew. Perfect for fans of Jonny Duddle's The Ghostly Galleon and the Space Pirates books, looking for more swashbuckling action!
Reviews
Hayley
Hoist the mainsail! Gareth P. Jones really is on a roll with his Steampunk Pirates. This series just keeps getting better. The pirates are now well and truly settled into their sea-dog profession and are once again being challenged by the dastardly British Empire - this time with the King taking a keen interest. What is extra nice about this book though, is that we get to learn some more about the pirates' origins and we see more of an active role from Pendle, the only human member of the Leaky Battery crew. The action and adventure continues throughout the book and you are definitely left wanting more - which is good, as I think Mr Jones has plenty more pirate escapades in store. I for one will keep a weather eye on the horizon for the next book. 160 pages / Ages 7+ / Reviewed by Hayley Nicholson, librarian.
Suggested Reading Age 7+
Other titles