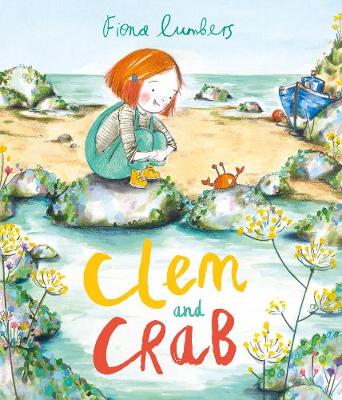 By Author / Illustrator
Fiona Lumbers
Genre
Environment
Age range(s)
5+
Publisher
Andersen Press Ltd
ISBN
9781783448692
Format
Hardback
Published
04-07-2019
Synopsis
Clem is an explorer, a collector, a protector of the seas! Treasure hunting on her beloved beach, she stumbles across Crab, his claw stuck in a plastic bag. Crab will be much safer and happier at Clem's house, but doesn't he belong on the beach?A stunningly illustrated timely tale of cleaning up our beaches, with the message that every small action helps.
Reviews
Kyle
Clem and Crab is a beautiful picture book that helps remind readers of the need to look after the world we live in. The story starts with us learning of Clem's love of the beach. This is shared with us through the use of beautiful description that really makes you feel like you are there on the beach with Clem. Whilst collecting plastic by playing 'plastic hide and seek' with her sister, Clem comes across a crab. Reluctantly she says goodbye to her new little friend and heads for home, only to later discover the crab has hitched a ride and followed her.
This leads to Clem showing Crab the wonders of her world and allows Clem to learn more about crab and his needs. After showing crab to her class, Clem's teacher reminds her that crab would be much happier back at the beach. Clem agrees and that weekend returns him to his home but finds something to make both her and her new friend smile.
Fiona Lumbers has created a truly fabulous book that is not only a joy to read but also works well as a reminder of how we need to look after the world. I have enjoyed it so much that I have already planned to use it with my Y2 class to help teach the children not only about sea creatures but also of how to recycle.
I feel there are opportunities for English, Science, Art, Geography, Music and PHSE to be taught by using this text. I also love the illustrations; they truly fit in with the image of the book and the soft watercolours used link in with the beach theme. I will be passing this book onto other colleagues to share.
Picture book / Ages 4+ / Reviewed by Kyle Matravers, teacher
Suggested Reading Age 5+
Mandy
Clem and her older sister live a bus ride away from the seaside, so they go to the beach every weekend. Clem's sister likes to sit on their beach hut verandah to read and dream, while Clem enjoys beachcombing, searching for shells, pretty stones, pieces of sea glass and other treasure. Clem also picks up litter from the beach and carries it all home for recycling.
One day, Clem finds Crab tangled up in a plastic bag, unable to free himself, so she carefully rescues him. Although Clem wants to take Crab home and keep him as a pet, her sister persuades her that the seaside is his natural environment. Clem sadly releases Crab back into a rock pool and says goodbye. However, Crab is more adventurous than Clem knows... She accidentally takes him home with her! Clem makes a temporary habitat for Crab to live in for a week. She also uses some of the many plastic items she found on the beach to make a collage. There are lots of them... plastic bags, bottles and bottle tops, cutlery, straws, take away cups, string and even a clothes peg!
Clem and Crab visit an aquarium to learn about sea life, conservation and the problem of plastic pollution in the oceans. Then Clem takes Crab and her collage to school and tells her teacher and her class all about the rubbish on the beach and the damage it does to wildlife and the environment. When she takes Crab back to the seaside at the end of the week, Clem has a truly wonderful surprise!
I received a free review copy of this book. The story is a very topical read at the moment and the illustrations are absolutely enchanting. Clem and Crab would be enjoyed by children aged around 5 to 7 years old, and it would link in well to curriculum work on the seaside, the environment, recycling and pollution.
Picture book / Reviewed by Mandy Abel, teacher
Suggested Reading Age 5+
Other titles