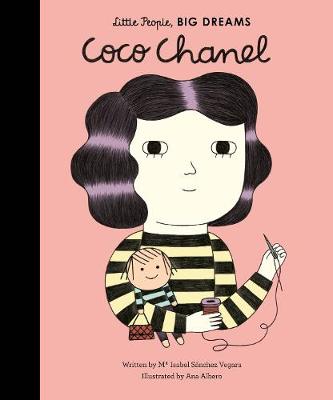 By Author / Illustrator
Maria Isabel Sanchez Vegara, Ana Albero
Genre
Adventure
Age range(s)
5+
Publisher
Frances Lincoln Publishers Ltd
ISBN
9781847807717
Format
Hardback
Published
04-02-2016
Synopsis
In this international bestseller from the critically acclaimed Little People, BIG DREAMS series, discover the inspiring story of this international style icon.

Following the death of her mother, Coco spent her early life in an orphanage, where she was taught how to use a needle and thread. From there, she became a cabaret singer, seamstress, hat maker and, eventually, the world's most famous fashion designer. This moving book features stylish and quirky illustrations and extra facts at the back, including a biographical timeline with historical photos and a detailed profile of the designer's life.

Little People, BIG DREAMS is a bestselling series of books and educational games that explore the lives of outstanding people, from designers and artists to scientists and activists. All of them achieved incredible things, yet each began life as a child with a dream.

This empowering series offers inspiring messages to children of all ages, in a range of formats. The board books are told in simple sentences, perfect for reading aloud to babies and toddlers. The hardback versions present expanded stories for beginning readers. Boxed gift sets allow you to collect a selection of the books by theme. Paper dolls, learning cards, matching games and other fun learning tools provide even more ways to make the lives of these role models accessible to children.

Inspire the next generation of outstanding people who will change the world with Little People, BIG DREAMS!
Reviews
Lauren
Coco Chanel is from The Little People, Big Dreams series. This series is based on the lives of inspirational women who have changed the world. This is the story of Coco Chanel, how she started as an orphan living in France. Coco was different from other girls because she liked to sew. Coco noticed how tight women's clothes were so she designed her own. At first, a lot of women didn't like her clothes and thought they were odd - but now, she is one of the most celebrated designers in the world! The book has been beautifully put together and the illustrations are fantastic. The story has been put together in a way that they are both meaningful but accessible to children across a variety of ages. I think this series would be beneficial both at home and in school as the books teach resilience and determination. Picture book / Ages 5+ / Reviewed by Lauren Maidman, teacher
Suggested Reading Age 5+
Lucy
Little People, Big Dreams is a collection of books about famous women and their lives. This book tells the story of Coco Chanel, otherwise known as Gabrielle when she was a child. She grew up in an orphanage where the nuns and other girls thought she was a bit strange. She didn't really fit in because she was different from all of the other girls. As she began to grow older, Gabrielle started to sew and liked to create things. She started by making a hat for her friend which was very different from other hats she owned. Gabrielle became known as Coco and continued to create new designs, incorporating dresses and other items into her collection. The book is dominated by some fantastic pictures which bring it to life. It is written using simple language for young children to enjoy, however, it also includes a more detailed, technical timeline at the end of the book for adults and older children to enjoy. This biography is inspiring for children in many ways; it fuels their curiosity, shows them they can do whatever they want if they put their minds to it and it also teaches them that being different can really pay off! A fantastic book. Picture book / Ages 5+ / Reviewed by Lucy Newton, Teacher
Suggested Reading Age 5+
Lizi
The 'Little People, Big Dreams' series is a collection of beautifully bound books that tell the stories of many famous faces. The series says that, through them, children will 'Discover the lives of outstanding people, from designers and artists to scientists. All of them achieved incredible things, yet each began life as a child with a dream'..and I absolutely agree! This a really simple picture book that tells the biography of CoCo Chanel from childhood to success. Each page has minimal text on and is completely child friendly. I'm vaguely familiar with Chanel's story (I have a penchant for biographic films!) and this story seems to include many key moments in her career - from the initial shock of her collection, to the roaring success of Chanel no. 5! In my class there are many girls who dream of being fashion designers, and this book would be a great gift for any of them! It's a beautifully designed book that will hopefully inspire many budding Chanels! 32 pages / Ages 7+ / Reviewed by Lizi Coombs, teacher.
Suggested Reading Age 7+
Other titles