Cookie! (Book 1): Cookie and the Most Annoying Boy in the World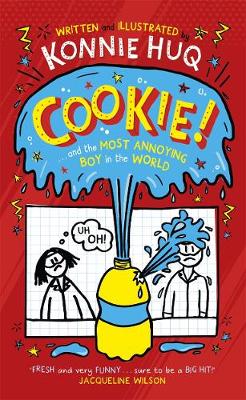 By Author / Illustrator
Konnie Huq
Genre
Adventure
Age range(s)
7+
Publisher
Templar Publishing
ISBN
9781848128828
Format
Hardback
Published
08-08-2019
Synopsis
The start of a brilliantly funny new kids series written and illustrated by much loved BBC Blue Peter presenter Konnie Huq'Smart, funny and full of warmth, just like its author' David Walliams'A fresh and very funny story . . . it's clearly going to be a BIG HIT' Jacqueline WilsonCookie's life is basically over. Her best friend in the whole world is moving to Solihull because one of her dads has a new job there. Solihull?! Where even is that?! Cookie begs her parents for a pet to fill the void but they have given her an absolute NO. It would be way too expensive and way way too messy. But Cookie has never been a fan of the word 'no' so she visits the pet shop anyway and sets her heart on the sweetest cutest kitteniest kitten ever: Bluey. But then . . . DISASTER! The most ANNOYING boy she's ever met in her entire nine years goes into the pet shop, buys Bluey and renames her Nigel! And then he joins her year at school! And if that wasn't bad enough, he moves in next door to her. AAAAGGGGHHHHH! But it's not all bad . . . Cookie gets the chance to go on her favourite TV show, Brainbusters. It's only a chance though - she'll have to win the school science competition first. It shouldn't be too hard . . . all she has to do is keep her head down, and not get too over-excited. Unfortunately that's not Cookie's strong point . . .
Reviews
Sam
Written by former Blue Peter presenter Konnie Haq, Cookie and the Most Annoying Boy in the World is the first of a three- book series. Cookie Haque is 9 years old, keen on science and ready to take on the world; providing that is that Jake, the annoying new boy from next door, doesn't get in her way!
It took me a little while to get going with this book, I am one of the few people in the world who doesn't rush out to read this style of book. I often fine books written in the first person hard to relate to, but Cookie really grew on me. Cookie is a fascinating and engaging character - funny, clever, a bit unfortunate, but still very relatable. Huq describes Cookie's world vividly and with amusing detail. Any school age child would want to be her best friend. By the end, I was completely taken in by Cookie's tendency to get herself into almost constant scrapes as she strives to gain a place in her favourite children's T.V. quiz show, Brainbusters.
So many books written in this first person, diary style (Wimpy Kid, Norm,) have male leads, so it is nice that this book is centred around Cookie, although Jake - 'the most annoying boy in the world', obviously plays a main part in the story, too. Cookie makes for a great protagonist. As the story unfolds, the dilemmas that Cookie has to deal with would so easily make for great classroom discussions, either as part of a guided reading lesson or as an automatic 'hook' question after listening to the story read aloud.
An ideal, incidental book corner discussion text! Konnie Huq's illustrations are simple but clear and appealing.  This is an amusing, well written story which will no doubt be a popular read with all ages, both at home and in school.
256 pages / Ages 8+ / Reviewed by Sam Phillips, teacher
Suggested Reading Age 7+
Other titles