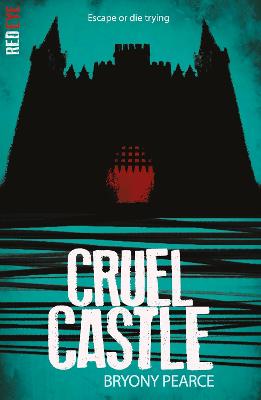 By Author / Illustrator
Bryony Pearce
Genre
Horror
Age range(s)
14+
Publisher
Little Tiger Press Group
ISBN
9781788953214
Format
Paperback / softback
Published
05-08-2021
Synopsis
They thought the island was the end. It was only the beginning... Having survived the horrors of Savage Island, Grady is now stuck working for Gold, the psychopath who masterminded the gruesome competition. Sent on a "team-building exercise" in a remote castle, he starts to plot his escape.  Ben and Lizzie are in hiding, presumed dead after escaping the island. If they're ever to return to their families, they need to bring Gold down. So they secretly join Grady in the castle. But as the doors slam shut and the series of deadly challenges between them and freedom are revealed, it looks like history is going to repeat itself...
A RED EYE horror novel for teens, this gripping sequel to SAVAGE ISLAND is full of fast-paced action and gruesome twists and turns.
Q&A and Video with author Bryony Pearce
Reviews
Kerenza

- Age 14
This book is the sequel to Savage Island. It focuses around three of the main characters from the previous book as well as several new characters. At the start of the book, Grady and some new characters are sent on a team building trip in a remote castle which soon turns out to be no ordinary trip as they are tested to their limits and forced to endure mentally and physically debilitating tasks. Meanwhile, Lizzy and Ben sneak into the castle-but why? Read it to find out!
I thought the book was really gripping and it kept me hooked, wondering whether they would all manage to escape from the castle or not, and I liked learning more and more about the characters and their motivations as the book went on, each of them becoming more and more desperate to escape as the rooms became more and more difficult to free themselves from, testing them to their limits every time. I found it interesting to learn about the characters storylines as the book went on, and I was shocked by the link which was discovered between Ben and Grady.
Suggested Reading Age 14+
Emelia
In this sequel to Savage Island, we see Ben, Lizzie and Grady working together to take on the mighty Gold in revenge for the deaths of their friend and family. The story begins with Ben and Lizzie in hiding after Grady helped to fake their deaths on the island. Ben and Lizzie want to get back to their families and they know there is only one way in which they can do that. With the help of Grady - who is now working for the psychopath Gold - they set about finding the evidence need to take Gold down and get their lives back. But something is wrong with Ben. Will it be an issue or will it in fact save the day?
Grady is told he is to go on a team building exercise in a castle belonging to Gold. Ben and Lizzie manage to find a way into the castle as members of the new serving team. After the island, they think they have prepared for everything this time, but have they? And will Grady really have their back this time?
A great read, I couldn't put it down. Twists and turns, some you can see coming and others you don't. I did find that it was a little predictable in places but still an enjoyable read and I will definitely recommend it.
333 pages / Reviewed by Emelia Helliwell, school librarian
Suggested Reading Age 14+
Lorraine
Grady survived the Iron Teen challenge and now finds himself trapped working for ruthless boss Marcus Gold. Unknown to Gold, Grady saved two of his peers from the island and is working with them to find a way to take Marcus down. Unfortunately, unknown to Grady, Gold has been watching the whole time and soon sends Grady and some workmates on a 'team building exercise' to his remote Scottish castle. Before long, the group realise this is not a team building weekend, but once again a fight for survival where each room becomes its own deadly challenge.
After reading Savage Island, the first in this series, I thought I was prepared for the twists, horror and challenges that the author might reveal, but once again Cruel Castle took me by surprise. With action, puzzles and revelations from the outset, the surprises just keep coming and I was compelled to keep reading. Somehow, with Grady's help, Ben and Lizzie have survived the horrors of the island but need to lay low to avoid repercussions from Marcus Gold. Soon, they are making their way to the castle to try and video Gold's torment and treatment of Grady and his colleagues as evidence. Unfortunately, they soon get caught up in the action and this is where the story really takes hold.
Once again Bryony Pearce cleverly uses a recent phenomenon to make her story relatable and relevant. Using the premise of the popular escape rooms, where people pay to be locked into a room and can only escape by solving clues, the castle is turned into one huge 'game' with deadly and violent consequences for any mistake. Due to the nature of Gold's employment system, Grady's other workmates are psychopathic, terrified, ruthless or indifferent and this makes for an interesting set of characters.
Teen fans of horror will not be disappointed and there is also the added novelty of the information within the clues, as well as the development and background of characters. Red Eye books are generally an entertaining and compelling read and this one does not disappoint. While Cruel Castle is a sequel, I would say it stands up well as a book in its own right, something quite unusual for second books in series. Recommended.
333 pages / Reviewed by Lorraine Ansell, school librarian
Suggested Reading Age 14+
Other titles