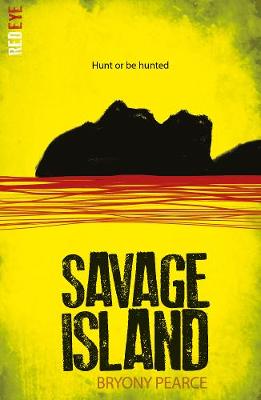 By Author / Illustrator
Bryony Pearce
Genre
Horror
Age range(s)
14+
Publisher
Little Tiger Press Group
ISBN
9781847158277
Format
Paperback / softback
Published
05-04-2018
Synopsis
When reclusive millionaire Marcus Gold announces that he's going to be staging an \"Iron Teen\" competition on his private island in the Outer Hebrides, teenagers Ben, Lizzie, Will, Grady and Carmen sign up - the prize is one million pounds ... each. But when the competition begins, the group begin to regret their decision. Other teams are hunting their competitors and attacking them for body parts. Can the friends stick together under such extreme pressure to survive? When lives are at stake, you find out who you can really trust...
A Red Eye horror novel for teens, this gripping YA thriller story is full of fast-paced action.
Find out about the follow-up to Savage Island - Cruel Castle
Reviews
Kerenza

- Age 14
I really enjoyed the theme of hunt or be hunted, as the main characters search the island for geocaches and escape from the other teams, and the tension that is created as they slowly realise the truth behind this seemingly harmless competition, and how their relationships grew and changed during the few days of their trip.  I really enjoyed the build-up of this book, how the characters applied to the competition expecting to walk away with £1 Million, and came back with so much less.
I would definitely recommend this book to anyone aged 13 and up who enjoyed series like the Hunger Games, the Maze Runner and Divergent. However, this book is quite gory and involves some death, so if you have a weaker stomach you might prefer to stay away!
Suggested Reading Age 14+
Emelia
Set in the UK, a group of friends are looking for an adventure before going off to university and happen to have one fall right into their laps. Is this a coincidence? This one even came with the chance to win a life changing sum of money. How could they not try?
In Savage Island, five friends decide to take part in Iron Teen, a competition on a remote island in Shetland Islands where there will be problem solving, geocaches and tests of endurance all in the hopes of winning the 1 million pound prize money. What could go wrong? They have experience in climbing, puzzle solving and team work. They could make it to the end in the quickest time? But they soon find out that the other teams will risk far more than just friendship to win. The friends are pushed to the limits at each step of the way. Will they find their way? Who will make it? Read to find out.
Bryony Pearce has done an amazing job. It is a story that keeps you on tender hooks, with twist and turns. It made me want to know more about the characters. What is the problem with Will and Ben's mum? Why is she so worried about Will? I can definitely say that it is not for the faint hearted or younger readers. Having not read any other books in the series I wasn't sure what to expect but I was certainly hooked from the start and scared at various points throughout!
405 pages / Reviewed by Emelia Helliwell, school librarian
Suggested Reading Age 14+
Lorraine
Five friends decide to enter the Iron Teen - a problem solving, endurance test on a remote island in the Shetlands, hosted by the Gold Foundation. The teams task is to collect all the geocaches along the way and finish in the fastest time against their competitors. With a prize of one million pounds each for the winning team, the stakes are high and they soon find out that the other teams are willing to risk more than friendship for the prize.
Well, Savage Island is certainly NOT for the faint hearted and right from the outset, the action is fast paced and threatening. Having red a few books in the Red Eye series before, I was prepared to be scared and perhaps a little horrified but this took things to another level. 
Geocaching is a relatively new phenomena that has taken off and involves people around the world hunting down and finding hidden waterproof containers. They usually contain a log book and often have trinkets or items inside. The finder can take an item but must leave something in its place and this is the premise used throughout the book. To open the boxes on the island, a riddle must be solved and as the items in the boxes become more and more grisly, the danger from the other teams becomes more apparent as items must be replaced with one of equivalent or greater value.
Without giving too much away, events soon take a turn for the worse due to ruthless teams and individuals, causing our five friends to be pushed to breaking point. Hampered by theft and diabolical attacks, the team change their initial hopes of winning into ones of staying alive. Running alongside and interspersed throughout the book is the protagonist's (Ben) relationship with his family and particularly his brother Will, also on the trip. Slowly, through flashbacks or memories, he reveals the nature of his brothers temperament and how his mother's handling of the situations caused the marital split. Manipulated by his mother, Ben feels responsible for his brother, not in the usual way, but to ensure that other people around them are safe. His friendship and love for Lizzie, the leader and instigator of the team, is tested throughout the book as the true nature of his brother's personality and resulting consequences are revealed.
The book builds into a natural climax and unfortunately it is there that I felt things wavered slightly. Finally making contact with the company behind the challenge, the friends discover that the prize is not as advertised and one more problem has to be solved. Perhaps I am too picky, but the events that take place at this stage seemed rushed and less thought through on all counts. The perpetrator and owner, Marcus Gold, seems flat and at odds with his manic imagination, whilst the final moments and actions of our friends push disbelief to its limits. The ending, however, is clever, with a jaw drop moment.
Overall, I think teens that love horror will devour this book; the reading is easy and the action non-stop and fast paced. You barely catch your breath before the next stomach churning moment, and that is my one warning. It really IS a horror book and like all the best movies, there are moments you need to turn away.
405 pages / Reviewed by Lorraine Ansell, school librarian
Suggested Reading Age 14+
Ellen
This is a thrilling, action-packed horror story that steadily ratchets up the tension as a group of teenagers try to make it through a deadly geocaching challenge on a remote island. Savage Island a perfect addition to Stripes' Red Eye horror series and will be devoured by 14+ readers who love horror and pacy stories - but be warned, it pulls no punches especially at the end although I was pleased that the gore was kept to a minimum; we know what is happening but it's not overly described. Savage Island follows a group of teenagers who take on a geocaching challenge on a secret island for the chance to win a million pounds each. Once they arrive, however, and with the first geocache of a severed finger giving a good indication of what is to come, tensions soon rise as the group gradually realises the lengths their competitors will go to to win the competition. Alongside the action, we have flashbacks to the teenagers' childhoods and relationships which draws us further into the story through their bonds and the complexity of their friendships. Ben, the narrator, has a troubled relationship with his mother and brother Will who, we learn, has a tendency towards sociopathic behaviour. His responsibilities for Will puts limits on Ben's future hopes and he draws back from other relationships. The other teenagers in the group are also fleshed out; each is there to contribute a different skill for the challenge. As for the geocaching challenge, we know only that it has been set up by a shadowy organisation headed up by a corporate billionaire. With the entire activity eventually turning into something like a very dark The Apprentice, the book also has things to say about our modern corporate environment. Full of twists and with a punchy ending, Savage Island takes the reader along with the teenagers on a journey you won't forget in a hurry. Highly recommended for those who enjoy their horror dark. 416 pages / Ages 14+ / Reviewed by Ellen King.
Suggested Reading Age 11+
Other titles