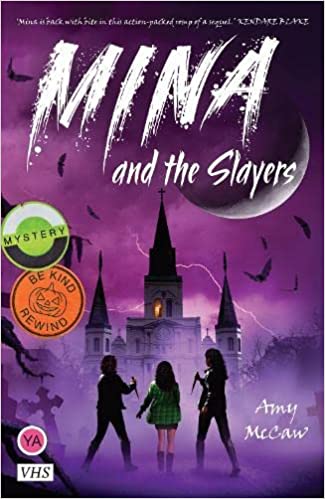 By Author / Illustrator
Amy McCaw
Genre
Horror
Age range(s)
14+
Publisher
UCLan Publishing
ISBN
9781912979912
Format
Paperback / softback
Published
01-09-2022
Synopsis
NEW ORLEANS, 1995.  MINA'S HAVING A KILLER HALLOWEEN.  Three months after Fang Fest, Mina's settling into her new life. Despite the teething problems in her relationship with Jared, she has her sister back, new friends and a part-time job to die for. Over Halloween, Mina and the gang have planned a spooky week of Gothic restaurants, horror movies, ghostly tours, creepy carnivals and a costume ball.  But the fun doesn't last. Mina is on work experience with Detective Cafferty while the police are investigating a savage masked killer and a rise in suspicious 'animal attacks'. During her own investigations, Mina discovers a mysterious group of slayers, who are battling to control the rogue vampires.The threats circle closer as Mina spends her days with the police and nights with the slayers. Will she and her friends survive Halloween without being staked, stabbed or bitten?
See Also:  Mina and the Undead (book 1)
Reviews
Clair
Mina and the Slayers is the hotly awaited sequel to Mina and the Undead. It is in this sequel that Mina meets 'The Slayers' for the first time. Set just three months after Fang Fest, Mina is only just getting used to being in a relationship with newly turned vampire, Jared. I really enjoyed seeing their relationship grow. Mina has also taken on a work experience post with Detective Cafferty and is exposed to some unsavoury murder scenes. I found it slightly unbelievable that the work experience girl would gain as much access to crime scenes and evidence but this added to the thrill of the story and I really liked Cafferty as a character. There is a savage masked killer on the loose and a rise in suspicious 'animal attacks' (read vampire bites!). Mina also starts to receive mysterious notes which feel slightly intimidating.
This sequel didn't disappoint as it is fast-paced and action-packed. Full of ghost tours, horror movie references, Halloween costume balls, creepy clown houses and carnivals. It does feel a bit like Scooby Doo has met Buffy the Vampire Slayer as there are mysteries to solve along the way. There is a surge in numbers of vampires and Mina uncovers that something really big is being planned for Halloween. Can she stop this with the help of The Slayers?
You will be on the edge of your seat wondering whether Mina makes it through the book without being staked, stabbed or bitten. I found this to be a fun and enjoyable read without being too gruesome or gory.
300 pages / Reviewed by Clair Bossons, school librarian
Suggested Reading Age 14+
Other titles