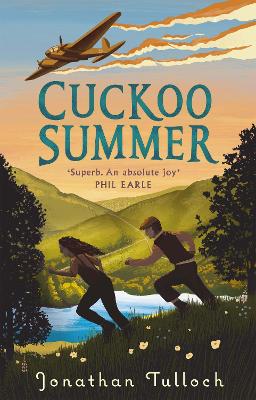 By Author / Illustrator
Jonathan Tulloch
Genre
Historical Fiction
Age range(s)
9+
Publisher
Andersen Press Ltd
ISBN
9781839132094
Format
Paperback / softback
Published
07-07-2022
Synopsis
Summer 1940. As the cuckoo sings out across the Lake District, life is about to change for ever for local boy Tommy and his friend Sally, the mysterious evacuee girl who lives on the neighbouring farm. When they find a wounded Nazi airman in the woods, Sally persuades Tommy not to report it but to keep the German hidden. This starts a chain of events that leads to the uncovering of secrets about Sally's past and a summer of adventure that neither child will ever forget.
Find out more from author Jonathan Tulloch
Reviews
Jacqueline
It is the summer of 1940 and Tommy and his friend, the evacuee Sally, are in the Lake District. Despite the remoteness of the place, war has touched them is several ways and Tommy's dad is missing in action. Then a German plane is brought down over the village and the navigator is not there and must have bailed out. Tommy and Sally find the missing German and decide to help him. This is the start of an adventure that will colour the summer and bring the war right into their lives.
Cuckoo Summer is lovingly written and a celebration of the Lakeland and the beauty and remoteness of the area. It evokes the scenes of woodland and streams, and it is the central theme to the story. The lives of the people living on remote farms and the plight of evacuees sent to stay with people who should not be allowed near children are shockingly recounted. There are echoes of Goodnight Mr Tom in the story, though the villain has no redeeming features.
There is now a canon of excellent stories set in World War 2 and schools will be spoilt for choice. This one would work well in city schools because it shows a life completely different from the city and the many traditions which still occur - such as the sheep shearing. The remoteness of the setting and life in such a place brings a different element to the war stories. Suitable for upper KS2, this is a lovely addition to the stories of that era.
256 pages
Suggested Reading Age 9+
Louisa
I began Cuckoo Summer with limited expectations. The blurb sounded suspiciously like Robert Westall's masterpiece, the Machine Gunners, and I wondered doubtfully whether it would measure up. Within a dozen pages, I'd been won over, and found myself totally engrossed in a rattling story with an endearing pair of main characters. I cared about Sally's mysterious past and Tommy's near orphan status.
In the summer of 1940, a plane crashes into a small Lake District town. Against all odds, the navigator escapes by parachute, landing in a remote dale where he is discovered by local boy, Tommy, and evacuee, Sally. For reasons of their own, they are determined to keep the news secret but, for all Tommy's local knowledge and all Sally's resourcefulness, can this be possible?
So, while it's not the most original in terms of setting or plot (the ending was comfortingly predictable), I adored it. It transported me back to the thrill of childhood reading and childhood adventures (although none of mine were anything like so exciting!). The characterisation is strong: it's not just Tommy and Sally who have back stories that plausibly inform their actions.
Cuckoo Summer is pacy and carefully plotted so that everything fits satisfyingly into place by the end and the first person narrative rings true. I would thoroughly recommend it to children in Years 4 to 6 who enjoy a darn good story - it's perfect for fans of Phil Earle, Emma Carroll and Helen Peters - and I'll be looking out for more books by Jonathan Tulloch.
256 Pages 
Suggested Reading Age 9+
Elen
Cuckoo Summer is one of those books that you know is going to find a natural place alongside books like Goodnight Mr Tom (Michelle Magorian) and The Valley Of Lost Secrets (Lesley Parr); there is so much to recommend about it.
Jonathan Tulloch's writing takes you straight into the story's time, during WWII, and place; a small Lake District village. Evacuees have arrived and are taken into families. Some are lucky, others, like Sally, less so; she ends up with farmer Scarcross, an ill-tempered, abusive carer. Fortunately, she is neighbours with Tommy and his aunts, who keen an eye out for her as she and Tommy set out on a summer of adventure.
When the children discover a German airman has landed in the nearby woods, Sally is determined to save the young soldier from the threatening clutches of Starcross and Tommy is roped in to help. Only gradually do we find out why Sally is compelled to forge this bond with another human being, alone and in need of help, despite putting herself in grave danger by doing so.
The characters in Cuckoo Summer are living, breathing beings and each of them has a distinctive role in the story, which is told from the perspective of Tommy, a loyal and compassionate friend who instinctively knows that all's not right in Sally's world, when she refuses to tell him anything about her former home life.  Part of Sally's appeal as a character is her dialogue - a young Liverpudlian, Tulloch captures her immense energy for life and fierce integrity through her dialogue, rich with her northern accent. In fact the whole novel is seeped in local accents and Tulloch's ease with dialogue is a strong part of the book's appeal.
Tulloch's obvious love for the Lake District and its wildlife also breathes through the pages of the story, which are filled with incidental descriptions of nature and its integral part in the characters' lives, and of course the sound of the cuckoo that echoes through its pages. It comes as no surprise to learn that the author is a presenter of nature programme and that the story was inspired by family anecdotes of his mother and aunts' wartime childhood experiences on a farm in the Lake District.
As the story develops, the stakes grow ever higher for Sally and Tommy and this will keep readers gripped as Cuckoo Summer moves towards its conclusion, when secrets are revealed and a way forward is found. The characters and setting stayed with me long after I'd finished reading the book and I know a lot of people are going to be talking about it.
Cuckoo Summer is a perfect book to share alongside WWII topics, and it will be loved by any child looking for an immersive story of adventure and friendship.
256 pages
Suggested Reading Age 9+
Other titles