Curiosity House: The Shrunken Head (Book One)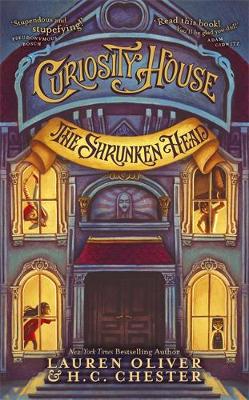 By Author / Illustrator
Lauren Oliver, H C Chester
Genre
Adventure
Age range(s)
9+
Publisher
Hodder & Stoughton
ISBN
9781444777185
Format
Hardback
Published
08-10-2015
Synopsis
The book is about, among other things: the strongest boy in the world, a talking cockatoo, a faulty mind reader, a beautiful bearded lady and a nervous magician, an old museum, and a shrunken head.
Blessed with extraordinary abilities, orphans Philippa, Sam, and Thomas have grown up happily in Dumfrey's Dime Museum of Freaks, Oddities, and Wonders. Philippa is a powerful mentalist, Sam is the world's strongest boy, and Thomas can squeeze himself into a space no bigger than a bread box. The children live happily with museum owner Mr. Dumfrey, alongside other misfits. But when a fourth child, Max, a knife-thrower, joins the group, it sets off an unforgettable chain of events.
When the museum's Amazonian shrunken head is stolen, the four are determined to get it back. But their search leads them to a series of murders and an explosive secret about their pasts.
Other titles