Danger at Dead Man's Pass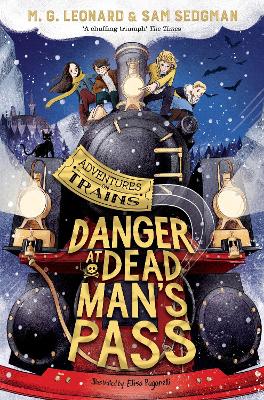 By Author / Illustrator
M. G. Leonard, Sam Sedgman, Elisa Paganelli
Genre
Adventure
Age range(s)
9+
Publisher
Pan Macmillan
ISBN
9781529013122
Format
Paperback / softback
Published
16-09-2021
Synopsis
Embark on a thrilling fourth adventure in the bestselling, prize-winning Adventures on Trains series - Danger at Dead Man's Pass, from M. G. Leonard and Sam Sedgman, as Harrison Beck investigates an ancient family curse high in the German mountains. Illustrated in black-and-white throughout by Elisa Paganelli.
A mysterious letter from an old friend asks Hal and Uncle Nat to help investigate a spooky supernatural mystery. Legend has it the Kratzensteins, a family of rich and powerful railway tycoons, are cursed, but there is no such thing as a curse, is there . . .? 
Hal and Nat take the night train to Berlin and go undercover. From a creaking old house at the foot of the Harz mountains, they take the Kratzenstein family's funeral train to the peak of the Brocken Mountain. Can Hal uncover the secrets of the Brocken railway and the family curse before disaster strikes?
Q&A & Video with authors MG Leonard & Sam Sedgman
Reviews
Donna
Book 4 in the series, Danger at Dead Man's Pass, starts at the beginning of the Easter holidays and follows Hal and Uncle Nat as they travel through Europe to Germany. This is a little darker than the previous books - with quite a twist!!! So far the series has given us theft, kidnapping and murder. Now there is a deadly curse.
This time our two detectives are travelling undercover - they have become quite the celebrities and Hal doesn't want to be identified as the 'Drawing Detective' - to attend a funeral. So they travel as family members to attend a funeral. Can they unravel the secrets of the legend that the Kratzensteins are cursed?
I love the complexities of each mystery and still fall for some of the red herrings - every one of the characters could have done it! In my opinion, this is the best book of the series yet. I can't wait for the next book, especially now that we have discovered some new interesting facts about Uncle Nat!!!!!
260 pages / Reviewed by Donna Ritchie, teacher
Suggested Reading Age 9+
Sue
Hal is delighted when his Uncle Nat appears at the start of the Easter holidays. Having received a mysterious letter from an old friend asking for their help, the two train detectives set off to investigate a suspicious death and a family curse. Going undercover as members of the family, they take the Eurostar to Paris and then set off for the family home at the foot of the Harz mountains. Together, they must solve the mystery of Dead Man's Pass, but is Uncle Nat also keeping secrets?
Once again, the unstoppable team of Leonard, Sedgman and Paganelli have delivered a first class mystery in Danger at Dead Man's Pass, which is brimming with action and adventure. In this story, Hal suspects Uncle Nat is keeping things from him and discovers more about his past, bringing many new possibilities for these adventures. I love the relationship between these two and how it has developed over their adventures together. The story has a wonderful cast of characters, who in true detective story style, all have the finger of suspicion pointing at them at some point as clues and red herrings are skilfully layered.
As usual, Elisa Paganelli's wonderful pictures allow the reader to see the sketches Hal makes on his journey, although he has to be careful not to reveal himself as 'the Drawing Detective'. Like the previous train adventures, Danger at Dead Mans Pass is full of description and detail, making the reader want to travel and see the places Hal does. The content is very appealing to train lovers, but not overwhelming the story.
Each one of these stories would be wonderful for using with a class, offering plenty to explore and investigate as well as enjoy. I cannot wait to join Hal on his next adventure - and I know many young readers who agree!
288 pages / Reviewed by Sue Wilsher, teacher
Suggested Reading Age 9+
Other titles