Sam Sedgman and MG Leonard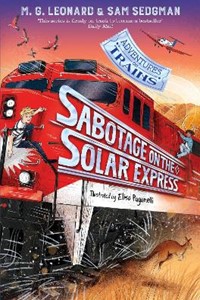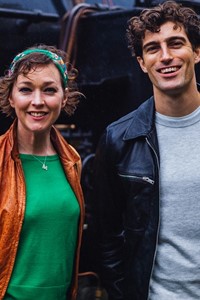 About Author
MG Leonard and Sam Sedgman are the writing duo behind the brilliant Adventures on Trains series!
MG Leonard is the internationally bestselling author of the Battle of the Beetles trilogy; Beetle Boy won the Branford Boase award. She is a beetle expert and lives in Brighton with her husband and two sons.
Sam Sedgman is a novelist, playwright and award-winning digital producer.  His work has been performed
internationally and shortlisted for the Courtyard Theatre award. He lives in London and is a lifelong train and mystery enthusiast.
Interview
Danger at Dead Man's Pass (Macmillan Children's Books)
September 2021
In the latest explosive Adventures On Trains novel by MG Leonard and Sam Sedgman, Danger at Dead Man's Pass, we travel by rail across Europe to the heart of a mystery involving a mysterious death and a family curse.
We asked authors MG Leonard and Sam Sedgman to tell us more about their new adventure!OR Watch the video on YouTube

Q&A with MG Leonard and Sam Sedgman
1. Why did you decide to write a series about mystery adventures on trains together?
MG Leonard - I had the idea to write a series of adventure books set on trains that were based on real trains and routes you could travel now, but I hadn't the knowledge of railways to be able to do it without years of research. However, I had a friend who I knew loved trains, was a writer and who I'd worked with before, and that friend was Sam. When I sketched out the idea for my series, he became incandescent with ideas and suggestions and I knew that my instinct that we should write it together was a good one, and so I proposed it and he said yes.
Sam - Yes it was Maya's idea that we should write a book together. I'd never considered writing a story for children before, but when she suggested we write about trains, I couldn't resist! It gave me an immediate flash of joy, reconnecting with the fun I had playing with trains as a kid and making up stories. Bringing that joy to the reader is really important to us. That's why they're detective stories - I have always loved crime fiction ever since I was little, as well as making up games and puzzles. Plotting an exciting crime on board a train makes the 10-year-old in me incredibly happy.
2. So Sam is the train expert?
Sam - As I've said, I adore trains. I grew up with a railway line at the bottom of my garden and I've loved them ever since. I never considered myself an expert, though, until Maya pointed out how much I knew about them. I'm not a technical expert - I can't give you locomotive numbers or junction layouts - but I love to learn about the stories trains have woven into their rails. Who built them? Where do they go? What can you see from the window? Who travels on board? The where and the why of railways have always been fertile ground for a storytellers' mind like mine.
MG Leonard - Sam has a passion and enthusiasm for all things railway. If there's something he doesn't know about trains, he's excited to find out about it. At the beginning of this adventure I knew nothing about trains, but writing the books together has taught me a lot and I fancy I could hold my own in a station full of train enthusiasts now.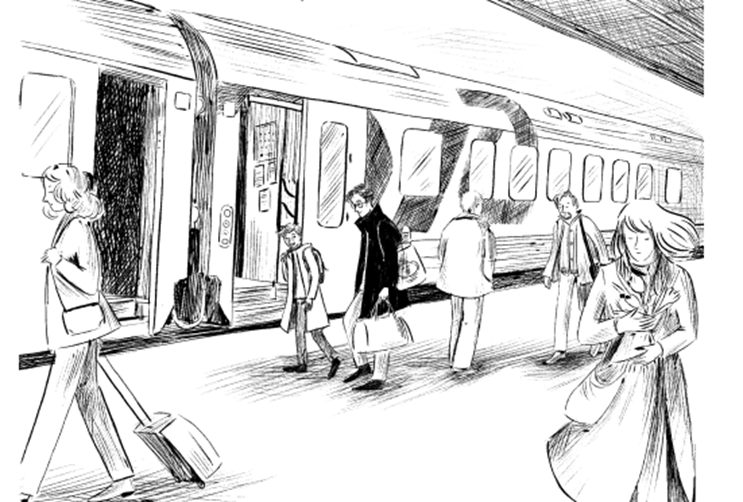 3. Since you write the series together, how do you decide who will write what? Do you ever argue?
MG Leonard - We do as much of the planning, plotting, character creation and general idea having, together. The writing is the graft of getting that down in words, and we take it in turns doing it, trying to ensure the story feels like it has one narrator. So far, we've not had an argument, but I think that's because creating the series is a joy for both of us, and we listen to each other and respect each other's contributions to the books.
Sam - As these are mystery stories, they need a lot of plotting. So before we write a word, we get together and decide everything that will happen in the book, plotting it out on post-it notes. We turn that into a map of the book, which one of us takes and turns into a first draft. We take turns drafting and re-drafting the manuscript until it's finished. We don't argue - but when we get stuck it's great to be able to call the other person up and ask for their help solving a problem.
4. Can you tell us a little about the new book, Danger at Dead Man's Pass, and what inspired the mystery at the heart of the adventure?
Sam - Danger at Dead Man's Pass is a mystery story set deep in the remote Harz Mountains in Germany. Our detective, Harrison Beck, travels undercover with his Uncle Nat to investigate a mysterious death in a railway cutting near the house of a wealthy family. It was inspired by a real railway called the Brockenbahn - the last timetabled steam railway in Europe, which weaves through the snowy mountains.
MG Leonard - This adventure is different from previous books, in that it is a journey on many trains rather than one and Hal must disguise himself and hide his drawing. It is an adventure across Europe and the first time Hal has encountered other languages and foreign currency. It is the darkest mystery of the four and is full of twists and surprises. We hope readers will love it.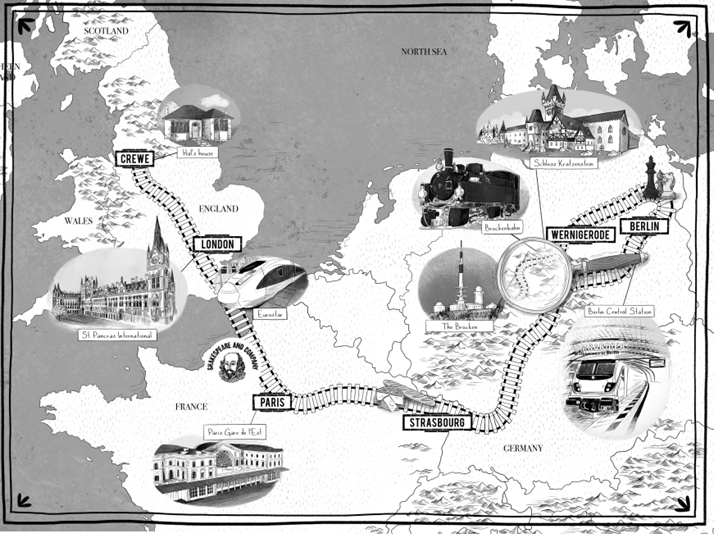 5. How do you decide on the setting for each Adventures on Trains book?
MG Leonard - The settings come from Sam's knowledge of the world's most interesting railways. He'll tell me about an amazing steam railway in the German mountains, where Goethe set some of Faust, and I'll go, 'Ooo we could tell a spooky story on that railway.' And we're off, imagining what might happen.
Sam - Yes, the world is full of incredible railway journeys. We try and make sure each story feels quite different from the one before, and setting is a great help with that. The story that springs to life from a snowy German mountain is very different from the one that comes from a luxurious rail safari in South Africa. So we look at our favourite railway journeys, and pick one that inspires us.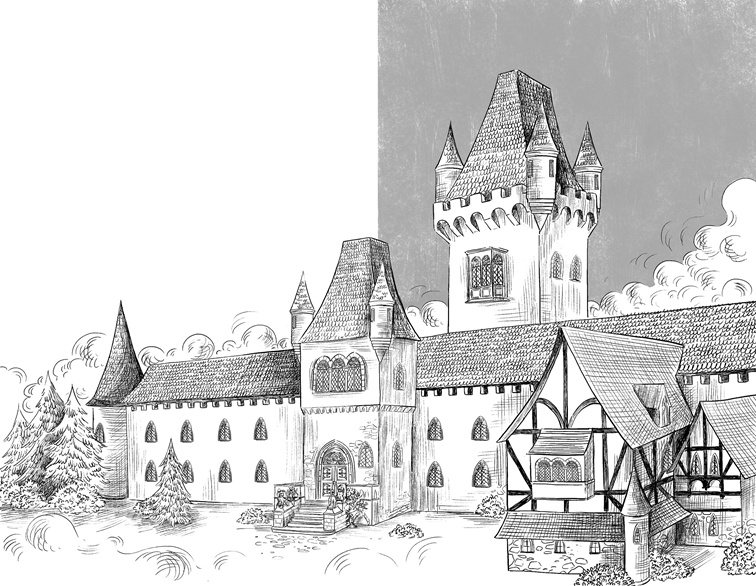 6.  So are the railway journeys made by Hal and his Uncle Nat based on real trains and actual railroads? How do you research their journeys?
Sam - The plot of every book in our series is inspired by a real railway journey - though the trains themselves are mostly fictional. We like to take these railway journeys to research the books whenever we can, though it's not always possible - especially with the pandemic. I was lucky enough to travel across America by train as research for our second book, Kidnap on the California Comet, and Maya and I took a European railway adventure together while researching Danger at Dead Man's Pass. We're hoping to travel to Sweden together this winter as research for our sixth book, which will be set on a train to the Arctic Circle.
7. What has been your favourite journey or adventure to write so far?
MG Leonard - My favourite has been Danger at Dead Man's Pass. It is a many layered book. It references many literary inspirations, such as Sherlock Holmes, Frankenstein and Faust, it has codes, lots of secrets, brilliant trains, and I got to do the journey Hal and Nat do before the pandemic, so it was a joy to relive that as we wrote during lockdown. I love that it celebrates the languages, trains and food you can discover in Europe.
Sam - Murder on the Safari Star has been my absolute favourite book to write. I'm a lifelong fan of Agatha Christie, and this was our first proper whodunnit, with a dead body in a locked room! I loved putting the puzzle pieces together and getting all the clues into the right place. Plus, even though we couldn't travel to South Africa as research, I loved learning about safari animals and bringing the setting of that book to life. It came out in the middle of the dark lockdown winter, and it felt so good to share a flash of so much joy and colour with our readers.
8. What have you got planned next for Hal and Uncle Nat?
Sam - After Danger at Dead Man's Pass, they will be travelling to Australia in their fifth adventure, Sabotage on the Solar Express, arriving in bookshop next February. It's going to be an action-packed thriller, roaring through the Outback, inspired by all our favourite disaster movies. It's going to be epic!

9. What makes a great train journey for you? What have been your favourite (real life) rail adventure?
MG Leonard - If I am facing the direction of travel, have a window seat at a table empty of other passengers, I am happy to the point of bliss. I love to write, think, read and just be on trains.  My favourite adventure on a train was the research trip Sam and I took from London to the Harz mountains. It was the first time I'd travelled on a sleeper train, and slept in a bunk. Waking up at 6am and looking out the window as we arrived in Berlin was magical. We travelled on seven trains in 24 hours, and it taught me that we don't need airplanes to get to many places.
Sam - A good seat, a lovely book, and something to look at out of the window. I love travelling a route for the first time. There's always something to discover - a strange junction, an incredible view, a beautiful town. But by far the most brilliant journey I've taken was the California Zephyr from Chicago to San Francisco. It took three days and two nights, and we travelled through farmland, forest, snowy mountains and the desert. I met incredible people and I was never bored, seeing parts of the country that people who fly overhead never get to see.
10. What do children say about your books?
MG Leonard - Children's imaginations seem to be really sparked by these books. I have been sent letters from readers suggesting titles, trains, and even drawing covers for future books. I think the fabulous illustrations in these books, by Elisa Paganelli, really inspire them to draw. And, of course, everyone loves a good mystery.
Sam - Our first book, The Highland Falcon Thief, came out just before the very first lockdown, and since then I've hardly had any chance to meet readers. So apart from my nephew, I haven't met any children who have actually read them! It all feels very unreal. One thing I'm most excited to do this autumn around the release of Danger at Dead Man's Pass is to travel to schools and bookshops and have the chance to finally meet readers properly.
11. What kinds of children's books do you enjoy reading? Any recommendations?
MG Leonard - There are so many great writers of books for young readers. If you like lyrical, poetic stories, then Kiran Millward Hargrave is for you, or if you want action packed hilarity, try Maz Evans. Piers Torday is an ingenious writer, whose great new book The Wild Before explores climate change through the eyes of a little hare. If you're looking for a magical escape, you can't do better than Jessica Townsend's Nevermoor series, or if you're looking for something contemporary and brilliantly written, then take a look at Ross Wellford's books.
Sam - As one of the hosts of Down the Rabbit Hole, a radio show all about children's books, I get the chance to read lots of exciting new releases. There really is an astonishing amount of brilliant writing for children coming out at the moment - we are spoiled for choice! My heart will always be with crime fiction - so I adore the wave of brilliant young detectives we are seeing at the moment, from Sharna Jackson's High Rise Mystery series, to Katherine Woodfine's Taylor & Rose: Secret Agents, to Serena Patel's Anisha: Accidental Detective.
12. What do you most enjoy doing when you're not writing, or reading?
MG Leonard - I have a dog called Nell, who I love to walk with. I love gardening, bug hunting, birdwatching and generally being outdoors. It's a nice balance to being indoors and writing. If it's raining, then doing a jigsaw or playing a board game (usually one Sam has recommended) with my husband and sons, is heaven.
Sam - I'm absolutely fanatical about board games. We're living in the golden age of tabletop games and there are a bewildering number of brilliantly entertaining ones. Some of my favourites for grown-ups are Seven Wonders (about building ancient civilisations) and Wingspan (about collecting birds). I've just spent the bank holiday playing Ticket to Ride with my nephews, which is all about building railway networks across the USA. They love it.
Author's Titles