Sabotage on the Solar Express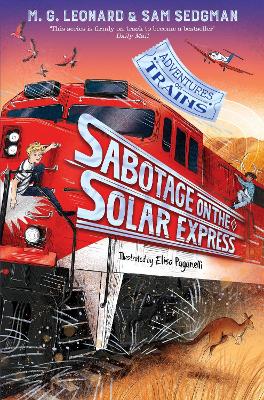 By Author / Illustrator
M. G. Leonard, Sam Sedgman, Elisa Paganelli
Genre
Adventure
Age range(s)
9+
Publisher
Pan Macmillan
ISBN
9781529072655
Format
Paperback / softback
Published
17-02-2022
Synopsis
Ride into danger with Hal and Uncle Nat on the fifth breathtaking Adventures on Trains Mystery, Sabotage on the Solar Express, from bestselling award-winners M. G. Leonard and Sam Sedgman. Perfect for readers of 8 to 12 and brilliantly illustrated in black and white throughout by Elisa Paganelli.

Billionaire train enthusiast August Reza has invited Harrison Beck and Uncle Nat on the maiden voyage of the Solar Express - the winning design of his Reza's Rocket competition. But during the journey, they discover the train has been sabotaged, hurtling passengers into a heart-stopping, action-packed, thrill ride across the Australian Outback. Can Hal find the saboteur and stop the runaway train before disaster strikes?

Sabotage on the Solar Express can be read as a stand-alone novel, or enjoyed as part of the Adventures on Trains series. Join Hal and Uncle Nat on more stops in this thrilling series with: The Highland Falcon Thief, Kidnap on the California Comet, Murder on the Safari Star, and Danger at Dead Man's Pass.

Praise for the Series:  'Like Murder on the Orient Express but better!' - Frank Cottrell-Boyce on The Highland Falcon Thief.  'A first class choo-choo-dunnit!' - David Solomons on Kidnap on the California Comet.  'A high-speed train journey worth catching . . .The best yet' - The Times on Murder on the Safari Star.  'This series just gets better and better' - Maz Evans on Danger at Dead Man's Pass
Reviews
Donna
I highly recommend this series, Adventures on Trains - each book contains so much excitement! If you enjoy books full of mystery, suspense, twists and turns, these books are ideal for you! I love that every book has a different setting. Each one extremely difficult to put down until you have solved the mystery (or tried to!).
Sabotage on the Solar Express is set in the Australian Outback. Hal and Uncle Nat are on the environmentally-friendly Solar Express train. Some old faces from the past - August Reza and his daughter Marianne, and new characters such as Boaz - Reza's Rocket competition winner - are also on board. Early on in the book it is obvious that all is not well - someone has sabotaged the train! As the adults throw around the blame, it is left to the Hal, Marianne and Boaz to work out who the saboteur is.
MG Leonard and Sam Sedgman certainly keep you on the edge of your seat! Just when you think each book can't be beaten, along comes the next! Sabotage on the Solar Express is the best one yet!
232 pages / Reviewed by Donna Ritchie, teacher
Suggested Reading Age 9+
Kelly
Award-winning authors M.G. Leonard and Sam Sedgman bring us another wheel-grinding, thrill-seeking adventure, this time across the Australian outback. The fifth epic Adventure on Trains instalment, Sabotage on the Solar Express, sees Hal and his Uncle Nat reunited with August Reza and his daughter, Marianne, from the second book: Kidnap on the California Comet.
August Reza, a billionaire train enthusiast, has invited Harrison, Hal, Beck and his uncle Nat on the inaugural journey of the Solar Express - the winning design of his Reza's Rocket competition. But foul play is soon detected, and who better to solve a mystery on board a train than Hal! Sabotaged, the Solar Express is hurtling ahead, but will Hal be able to solve the mystery before they run out of track and derail?
Sabotage on the Solar Express is an explosive, thrill-seeking adventure that illuminates the brilliance of children. Power is firmly held in the hands of Hal, Marianne and Reza's Rocket Competition winner, Boaz, while adults get wrapped up in a blame game. Monochrome brushstroke illustrations by Elisa Paganelli breathe life into the story, immersing the reader into the action aboard The Solar Express. Full of twists and turns, this mystery story will keep the reader entranced and guessing from cover to cover.
256 pages / Reviewed by Kelly Buxton, teacher
Suggested Reading Age 9+
Other titles