Delivery to the Lost City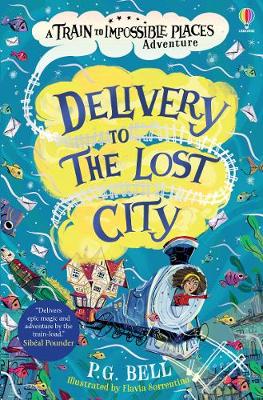 By Author / Illustrator
P G Bell, Flavia Sorrentino
Genre
Adventure
Age range(s)
7+
Publisher
Usborne Publishing Ltd
ISBN
9781474948630
Format
Paperback / softback
Published
07-01-2021
Synopsis
All aboard for the rip-roaring final book in the bestselling Train to Impossible Places Adventures, with magic at every stop.From the award-winning P.G. Bell, with dazzling illustrations from Flavia Sorrentino, join Suzy on this magical adventure, where the journey will never, ever take you where you expect it to.
When the Impossible Postal Express magically arrives to collect Suzy, she sets off on her most difficult delivery yet. A mysterious talking book is stealing words and causing chaos across the whole of the Impossible Places! The book must be returned to a city that's been lost for thousands of years. But without a map to get there, Suzy and Wilmot's journey plunges them into grave danger. And with time running out, it might not just be the knowledge in the Impossible Places that is lost for ever - Suzy and Wilmot could be too...
Reviews
Samantha
I absolutely loved the first two books in this series, so I was understandably excited to read this one and I am thrilled to be able to say that it certainly didn't disappoint. The third and final instalment in the Train to Impossible Places trilogy, Delivery to the Lost City, begins with Suzy trying to convince her parents that her job as a deputy postal operative is perfectly safe. However, the arrival of Suzy's troll friends, Stonker and Fletch, doesn't really help to convince them.
Things become even more difficult when the crew of the Postal Express are called upon to return an overdue library book to a city that has been 'lost' for hundreds of years. As if finding the lost city was not hard enough, Suzy and the Postal Express team are working against the clock; they need to protect the other books at the library and every other form of written word from the overdue book, which has the unnerving ability to 'swallow up' the words from each and every page it comes close to. Suzy and her friends need to achieve the impossible; find a lost city, return the book before it does irreversible damage, and convince Suzy's parents not to ground her for life!
Delivery to the Lost City will most definitely make a great independent read for any upper KS2 reader, this fantastic story will also make a great whole class guided reading choice. Bell's writing style will easily trigger the imagination of young readers, helping them to envision the places he describes, with ease, and no doubt leading to a wealth of points for discussion about families and trust, or news sources and prejudice, to name but a few. A fantastic ending to a brilliant series.
400 pages / Ages 8+ / Reviewed by Samantha Phillips, teacher
Suggested Reading Age 7+
Sue
The Impossible Postal Express is off on another incredible adventure! Since learning that their daughter has been sneaking out of the house to deliver mail to the Impossible Places, Suzy's parents have understandably become a little over-protective. In an effort to bring her two worlds together, Suzy has asked her friends from the Impossible Postal Express to come for tea and meet her family. Things are not going quite according to plan when the crew are called away to make a delivery. Determined to make her parents understand, Suzy suggests they hop on board and find out what life on the Express is like. But taking delivery of a mysterious talking book which is stealing words and causing chaos, setting off on a mission to find a lost city and facing untold dangers might not be the best way to put their minds at rest...
Delivery to the Lost City is the third adventure for Suzy and her friends from the Impossible Places and it doesn't disappoint. One of my favourite things about these books is the incredible world building which makes each place visited full of detail and come alive around you as you read. In this story, Suzy visits new locations as well as familiar ones, each vividly described and full of wonder.
The story makes an amazing read aloud as it is richly told and offers much to linger over and imagine. Suzy continues to be a wonderful personality. Resourceful and curious, she is also a loyal and caring. This book explores her relationship with her parents as she is desperate to both please them and continue to be Deputy Postal Operative Smith, performing the duties she knows she is so good at aboard the Postal Express.
On their adventures, Susie and the crew meet new characters - and bump into some old ones. I couldn't help wondering whether P G Bell had modelled one of the new ones on someone often in the news! Speaking of news, this story also shows how people can be controlled by misinformation, prejudice and fear, making it an excellent starting point for discussions about questioning what we are told in the media. That said, the writing maintains the characteristic humour of the previous books, steaming along at a great pace with lots of action and adventure.
I believe this is to be the last book in this series which I think is a great shame as there are many adventures still waiting to be had in this incredible world with these wonderful characters.
400 pages / Ages 7+ / Reviewed by Sue Wilsher, teacher
Suggested Reading Age 7+
Other titles