Diary of an Accidental Witch: Flying High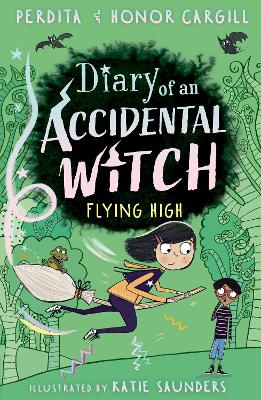 By Author / Illustrator
Honor and Perdita Cargill, Katie Saunders
Genre
Magical Realism
Age range(s)
7+
Publisher
Little Tiger Press Group
ISBN
9781788953399
Format
Paperback / softback
Published
03-02-2022
Synopsis
'Monday 1st November
There's only fifty days until the Winter Solstice, the longest and witchiest night of the year. But before that there's the Grand Tournament - the biggest and sportiest day in the witchy calendar! And I can't wait!'

Bea Black is all settled into her new life in Little Spellshire, a town with a magical secret. She's made tonnes of friends at witch school, learned how to levitate frogs (just about) and been working hard on polishing up her broom skills. So when the Winter Solstice Grand Tournament rolls round, she's ready to rise to the next challenge and fly high.

But then Ms Sparks decides that this year's tournament will be a bit ... er ... different. That is, it won't be an Extraordinary Grand Tournament at all, but rather a very ordinary sports day with Spellshire Academy! With magic firmly forbidden and rivalry reaching new heights, who will emerge victorious? And more importantly, will Bea's friendship with her best non-witchy friend Ash survive the competition?

A perfect potion of magic and mischief, Diary of an Accidental Witch is The Worst Witch meets Tom Gates.
See Book 1: Diary of an Accidental Witch
Reviews
Nicola
Bea Black is back! (see book 1, Diary of an Accidental Witch). Bea Black is settling into life as a witch, she is finally mastering some spells and shows real skill at looking after animals, especially frogs, but life isn't all rosy. Unable to tell her best (non-magical) friend Ash about her new life, she becomes increasingly torn between her old and new self and her friendship suffers to the point of breaking.
When this leads to the witch school and the non-magical academy coming to blows, the Grand Tournament - the biggest and sportiest day in the witch calendar - is cancelled, and it's Bea's fault! Imagine the other witches' faces when they find out their broomstick Go! matches are being replaced with hurdles and the egg and spoon race with no magic allowed! Will the two halves of Bea's life come together in harmony or will they end up scrambled, much like some of the eggs involved in sports day?
Diary of an Accidental Witch: Flying High is brilliant and the diary entry format makes it so accessible for younger readers; book 2 has been eagerly awaited by years 3 and 4. The story, the second Diary of an Accidental Witch adventure, demonstrates how the power of friendship transcends all barriers and just how much we need our friends.
224 pages / Reviewed by Nicola Mansfield Niemi, teacher
Suggested Reading Age 7+
Other titles