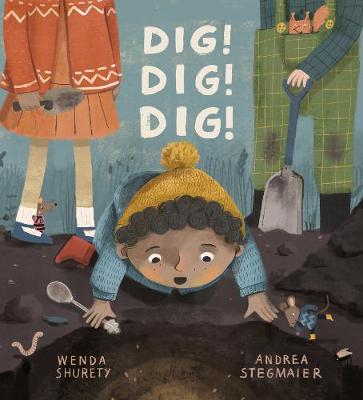 By Author / Illustrator
Wenda Shurety, Andrea Stegmaier
Genre
Friends and family
Age range(s)
3+
Publisher
Storyhouse Publishing
ISBN
9781916281813
Format
Paperback / softback
Published
28-01-2021
Synopsis
What would it be like to live on the other side of the world? Meet Jake who wants to find the answer to this burning question. What happens when he starts digging to find the answer? Where will the hole end? Embracing values of determination, sharing and co-operation, Dig, Dig, Dig! is a fun story which promotes teamwork and friendship.
Reviews
Judith
Dig! Dig! Dig! This story of curiosity, determination and teamwork begins as Jake spins the globe on his windowsill and imagines what life may be like on the other side of the world from his rather grey and gloomy street. He is particularly interested to find out if people there walk upside down.
There is only one way to find out, he decides, and he begins digging a way through to the other side. At first a solo effort, he is soon joined by the girl next door who is just as intrigued and begins to help. The children of the neighbourhood are soon drawn in to this endeavour and work determinedly together, using hands, spoons, diggers and spades. Even the rain does not prevent their continuation to the shared goal. At the end, readers are persuaded that they must dig their own hole to find out what is on the other side of the world (after checking with a grown-up, of course).
I was particularly struck by the diversity of characters in the story, including a wheelchair user who just happens to be part of the gang. I enjoyed the pictures of the underground creatures and buried artefacts, as well as the antics of the accompanying mice.
The use of colour in the illustrations provides a stark contrast between the darkness of the underground and the colourful details of the children and their implements. The book also shows some interesting perspectives, including an aerial view of the street and the strata beneath the surface of the ground.
Overall, this is an enjoyable tale which I am sure will encourage children to explore their own territory and spark their curiosity in the world around them, both near and far.
Picture book / Reviewed by Judith Greenall 
Suggested Reading Age 3+
Other titles