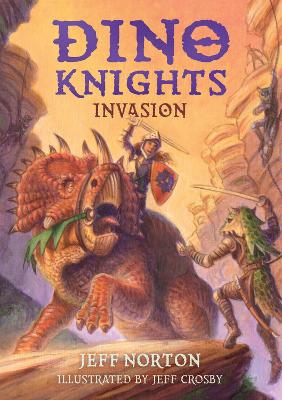 By Author / Illustrator
Jeff Norton, Crosby
Genre
Adventure
Age range(s)
7+
Publisher
Scallywag Press
ISBN
9781912650880
Format
Paperback / softback
Published
07-04-2022
Synopsis
The second in a fast-paced fantasy adventure trilogy, set in a medieval land where dinosaurs still roam. Dramatic illustrations of knights and a dinosaur field guide add appeal for the most reluctant reader. When the Highlanders are attacked and kidnapped by their ruthless neighbours, the Dino Knights are torn between avenging Ellie's Highlander family or protecting Brecklan which is now under threat. Ellie and Henry risk everything and disobey orders to go to the rescue. But in doing so they make a powerful new ally who will help them save Brecklan.  For ages 7-11
Reviews
Sam
Dino Knights: Invasion is the second book in a fast-paced fantasy adventure trilogy, set in a medieval land where dinosaurs still roam. Written by Jeff Norton, this is an absolute must have for any Lower KS2 class library and for those new to chapter books and for reluctant readers.
This fast-paced, action packed adventure is the ideal book to encourage any reluctant reader to read for pleasure. While this book's short chapters, Jeff Crosby's detailed illustrations of the knights and the dinosaur field guide will not only help those less dino-knowledgeable readers like myself, but will also no doubt improve confidence and stamina of new readers too.
When the Highlanders are attacked and kidnapped by their ruthless neighbours the Dino Knights must decide whether to guard Brecklan or defy orders and attempt a very dangerous mission. Young Dino-Knights, Ellie and Henry risk everything and disobey orders to go to the rescue.
This is most certainly not my usual classroom fiction choice, I've never been a fan of medieval battles or dinosaurs; however after reading the first book in this series by Jeff Norton I couldn't wait to read book 2. Dino-Knights, Invasion certainly didn't disappoint; continuing the central theme of good prevailing over evil, family and friendship, the adventures of these young protagonists will definitely make a great book for guided reading and for story time at home.
160 pages / Reviewed by Sam Phillips, teacher
Suggested Reading Age 7+
Other titles