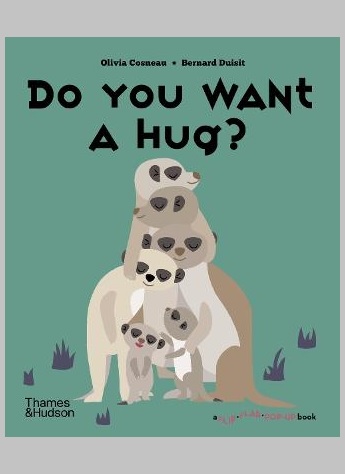 By Author / Illustrator
Olivia Cosneau, illus Bernard Duisit
Genre
Animals
Age range(s)
3+
Publisher
Thames & Hudson Ltd
ISBN
9780500653005
Format
Hardback
Published
28-04-2022
Synopsis
Everybody needs a hug, as this delightful addition to the Flip Flap Pop-Up series demonstrates. Packed with interactive tabs, this pop-up book is full of flaps to lift, tabs to pull and plenty of surprises!  What surprises await beneath the flaps? Find out in this charming book in the bestselling Flip Flap Pop-Up series.


Reviews
Wendy
This is a sweet little book that takes the first steps into conversations about consent. It asks the same question, 'Do You Want a Hug?' to a variety of animals. Some say 'yes' and some say 'no' and others show there are lots of different ways to show affection, if you choose to.  Perfect for sharing with 3-5 year olds who like animals and hugs!
There is another audience for this little book, however. It calls itself a 'Flip*Flap*Pop-Up' book and the paper engineering on each page provides a different example of a moving piece that perfectly supports the Key Stage One DT curriculum. This makes it a fine book to have in a topic box or in a school library, to give children ideas about making their own pop-up and flap books. It's made of fairly sturdy cardboard so should stand up to repeated handling.
Board Book / Reviewed by Wendy, teacher
Suggested Reading Age 3+
Other titles