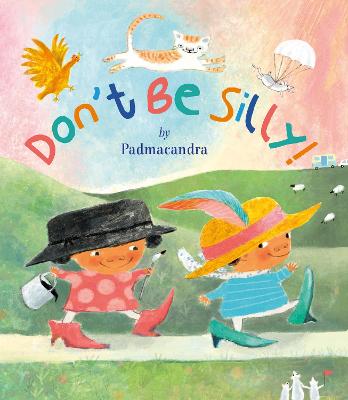 By Author / Illustrator
Padmacandra
Genre
Funny Stories
Age range(s)
3+
Publisher
Scallywag Press
ISBN
9781915252111
Format
Hardback
Published
02-02-2023
Synopsis
Bouncy Bo and little Smudge Lived in a CASTLE, with their father, Mr Judge....Bouncy Bo and Little Smudge live in a sombre castle with their serious father. They are full of laughter and mischief, but it seems as if all the adults have forgotten how to smile . . . until an eye-opening visit to their grandparents proves otherwise!  Romping rhyme and joyful silliness from Klaus Flugge Prize shortlisted illustrator Padmacandra.
Padmacandra reads from Don't Be Silly
Reviews
Ellen
Don't Be Silly is a joyful book filled with being silly, and fun - reminding us that children delight in those things - and that sometimes so should the grown-ups!  Two siblings wonder why grown-ups can't have fun; they are so serious all the time! When told not to be silly, they try to dress up as grown-ups, only to be told they are 'being silly'. But through their grandparents, they discover that not all grown-ups like being serious all the time.
There are so many details to explore in these pages, including the very serious castle portraits that begin this tale at the start of the story. The grandparents, though, turn this on seriousness on its head and in the final pages, the eagle-eyed child will spot a vignette that shows how the grandparents remind everyone that it's good to have fun - and be a little silly!
Young children will delight in seeing the grown-ups behaving in a very silly way, and contrasting the very serious judge at the start of the story with the joyful grandparents at the end. With its rhyming text and lively illustrations, this is a lovely book to share, reminding us all of the joys of having fun!
Picture book / Reviewed by Ellen
Suggested Reading Age 3+
J
Don't be Silly is a story about how parents want their children to be sensible. The children try and be sensible by dressing as grown ups. The grown ups still think they are silly. Finally, the children meet the grandparents... 
This books explores the relationships between children, parents and grandparents. Why do these parents always act properly? Children will ask lots of questions as you read this story.  A fun book to read with little ones.
Picture book / Reviewed by Jenny
Suggested Reading Age 3+
Other titles