Dragon Detective: Catnapped!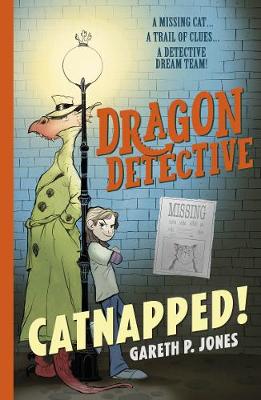 By Author / Illustrator
Gareth P. Jones
Genre
Mystery & Detective
Age range(s)
7+
Publisher
Little Tiger Press Group
ISBN
9781788951678
Format
Paperback / softback
Published
06-02-2020
Synopsis
"The Dragon Detective Agency. Dirk Dilly speaking."
When detective Dirk Dilly gets a call from Holly, a young girl whose pet cat has gone missing, the dragon ends up with not only a new case to solve but also a self-appointed partner-in-solving-crime. And it turns out that Holly's cat is just the beginning! As the pair hunt for clues, Dirk spots other dragons flying over the city - and not the good kind. Dirk has a hunch they might just be involved, but will he and Holly be able prevent further cat-astrophe before it's too late?
The first instalment in a fun and action-packed detective series for fans of TOTO THE NINJA CAT, HOW TO TRAIN YOUR DRAGON and Tom Fletcher's children's books.
See Book 2 - Dragon Detective: School's Out
Reviews
Samantha
This first book in the Dragon Detective series by Gareth P Jones was originally published in 2006, since then it has been tweaked, updated and re-released for a new audience earlier this year (2020).
This first book in the series, Dragon Detective: Catnapped!, introduces the reader to Dirk Dilly; an orange-squash drinking, fire-breathing dragon, who also just happens to be a Private Detective! Things are rather quiet for Detective Dirk Dilly when he receives a call from 11-year-old Holly Bigsby, pleading with him to find her cat, Willow, so he uncharacteristically agrees to take on a case. As Dirk begins his investigations, he soon realises that the case is far more complex than just a missing cat and actually involves a wicked plan to wipe out more than just the feline population.
This book reminds me a lot of the Scooby-doo cartoons; an old-style adventure, with up-to-date laughs. Catnapped tells a story of an unlikely friendship between a lonely young girl and a mythical creature with attitude. Throw into the mix an almost blind landlady, two bumbling 'no-goods' and an evil dragon called Vainclaw Grandin, who is planning to wipe out the human race, and this story has a little something for everyone.
A must read for 7+ newly independent readers; although, it will also undoubtedly have huge appeal as a read aloud for younger children too!
224 pages / Reviewed by Samantha Phillips, teacher
Suggested Reading Age 7+
Other titles