Everyday Magic: The Adventures of Alfie Blackstack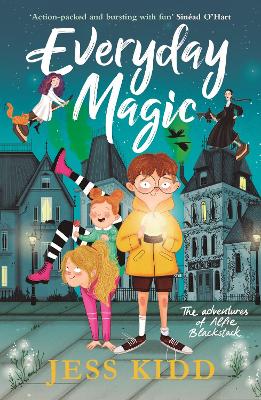 By Author / Illustrator
Jess Kidd
Genre
Magical Realism
Age range(s)
7+
Publisher
Canongate Books Ltd
ISBN
9781838850203
Format
Paperback / softback
Published
01-04-2021
Synopsis
Welcome to Little Snoddington, where nothing is normal and every day is magic . . .

Nine-year-old Alfie Blackstack's parents have met a very unfortunate end. Now he's living in the SUPER CREEPY Switherbroom Hall with his mad-haired Aunt Gertie and warty Aunt Zita. The thing is, Alfie's aunts aren't just weird - they're WITCHES!

When the circus arrives in town, Alfie makes his first ever friend, the FEARLESS Calypso Fagan. But when Calypso's little sister Nova disappears, they must face the TERRIFYING Head Witch in a race to find Nova and stop the next Witch War.
Reviews
Jennifer
Nervous, shy, (and definitely not brave) Alfie Blackstock's life is turned upside down when he becomes an orphan and is sent to gloomy, creepy Switherbroom Hall to live with two unknown and unusual aunts who might possibly be (definitely are) witches. Added to that is the appearance, in the dull village of Little Snoddington, of the fantastically thrilling Fagan family circus, and the author has created a recipe for magic, mayhem, mischief and mystery.
Alfie strikes up a firm friendship(the first friend he has ever made) with confident circus girl Calypso and begins to form bonds with aunts Gertrude and Zita (well, bonds with the first aunt and tolerated by the second!) A malevolent, wicked Head Witch, however, is threatening the whole of Little Snoddington and especially all that is now becoming dear to Alfie.
Everyday Magic is a book full of energy and riotous action with curious characters: imps trapped in snowglobes, a seriously spiteful spider Familiar and a sugary sweet, prettily dressed but poisonously villainous Head Witch, Prunella(conjured up images of the Addams Family films and Uncle Fester's wife, Black Widow character Debbie Jellinsky!)
This is a fresh and fast paced adventure as the plot builds into a furious, frenzy of activity as the Witch Wars begin. The sounds, smells and supernatural effects of spells and potions take over the village and its inhabitants. The scenes are vividly and cinematically created in the readers minds - I felt like I was part of a comic, wacky (but still perilous and tense) version of the storming of Hogwarts by Voldemort's army !
Absolutely hilarious and imaginative scenes with farting Familiars, saucepan armed witches, gingerbread biscuit soldiers and vacuum cleaners as the most popular mode of transport for today's battling witches. The vengeful and sinister Familiar Featherlegs is a genius creation of truly scary intent as Alfie and Calypso must battle the Head Witch to free Aunt Zita and save the village without Featherlegs crushing their skulls and sucking their brains. Gloriously gory!
The book is an enticing, enthralling joy to read. A story of family loyalties and traits and of finding friendship against the odds, despite differences in character. Of the bravery in coming out of your shell and discovering your own inner strengths (and your inner magic too!)
304 pages / Ages 7+ / Reviewed by Jennifer Caddick, teacher
Suggested Reading Age 7+
Ellen
Jess Kidd's Everyday Magic: The Adventures of Alfie Blackstock is an exciting, fun and magical adventure that many children I know would love; who wouldn't want to visit a village where magic happens!
Orphaned Alfie Blackstock is sent to live with his rather peculiar aunts in a small village in the middle of nowhere. This suits Alfie just fine; his late parents' adventuring was a little too adventurous for his tastes, and he thinks that nothing much can happen in a small village. He is, of course, very wrong, and when a circus arrives, bringing in its wake an unexpected assortment of witches, magic and adventures, Alfie has to find his courage and save the day - and his aunt - from a truly wicked witch.
Warm, funny and with characters children will love (both good and bad), this is a lovely story to share with a group of children or as an independent read for ages 7/8+. I do hope that there are more Alfie Blackstock adventures to come....
304 pages / Reviewed by Ellen Green. 
Suggested Reading Age 7+
Bryony
Everyday Magic: The Adventures of Alfie Blackstock by Jess Kidd is a magical tale of mischief and mayhem. A fun children's debut, Kidd has created a new world full of likeable characters and busy events.

Alfie Blackstock is nine years old. After his parents meet their unfortunate end, he is sent to live with his aunts, Gertie and Zita, in the creepy Switherbroom Hall. Alfie struggles to understand his aunts until it is revealed that they are witches! When the circus arrives in town, Alfie befriends Calypso who appears to have no fears. However, when Calypso's sister disappears they must work together in a race against time to find the Head Witch and stop a Witch War.

Alfie is a well rounded character that draws the reader into the story. There is darkness in his story but he is also brave and determined. Many children would wish they could be in his shoes. Calypso is fun and fearless. She is willing to stand up for her beliefs. The magic is interesting and draws the reader into this world.

Aimed at younger readers, this would make a great text for newly fluent children in lower Key Stage 2.

304 pages / Ages 7+ / Reviewed by Bryony Davies, teacher
Suggested Reading Age 7+
Other titles