Exploding Beetles and Inflatable Fish: A World of Animal Weirdness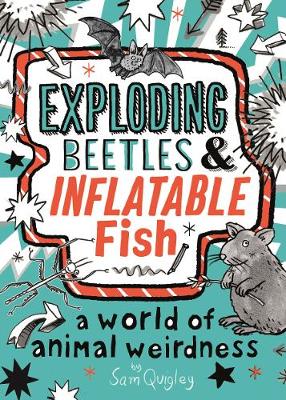 By Author / Illustrator
Tracey Turner, Andrew Wightman
Genre
Non Fiction
Age range(s)
7+
Publisher
Pan Macmillan
ISBN
9780753445808
Format
Paperback / softback
Published
13-05-2021
Synopsis
Enter the hilarious world of Sam Quigley, the strange-fact-obsessed owner of two stick insects called Twiggy and Wiggy in Exploding Beetles and Inflatable Fish.

Sam really likes interesting facts, the kind that will make you shout \"Wow! I never knew that\". Things like:
- Woodlice don't wee - instead a smelly gas comes wafting out of their shells
- There is a fish with a stomach so stretchy it can swallow things twice as big as itself
- Bombardier beetles can explode like toxic water pistols!

Written by Tracey Turner, this STEM-focused book is packed with incredible facts and stats about the world's weirdest animals. With a narrative that will have readers hooked, plus cool cartoon-style illustrations by Andrew Wightman, it's a perfect book for fact fans, animal lovers and reluctant readers alike.
Reviews
Megan
Exploding Beetles & Inflatable Fish is an intriguing fact book written by Sam Quigley, who has an interest in all things surprising and disgusting. This book looks at the weird world of animals, ranging from the deep-sea fish called the blobfish, which was voted the world's ugliest fish, to vampire bats, who eat the blood of big animals like horses or cows.
Sam also introduces us to his pets, two stick insects called Twiggy and Wiggy, a hamster called Letty and a goldfish called Bob. Partway through the book, Sam realises, Twiggy the stick insect, has gone missing. Throughout the rest of the book, Sam is trying to figure out what happened to Twiggy.
Exploding Beetles & Inflatable Fish would be a brilliant book for children aged 7+. The illustrations are fantastic and help to bring life to the facts. This book would be well suited to any children who are interested in animals.
96 pages / Reviewed by Megan Webb, teacher
Suggested Reading Age 7+
Other titles