Fabulously Feisty Queens: 15 of the brightest and boldest women who have ruled the world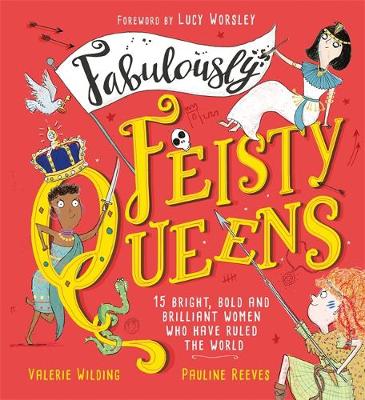 By Author / Illustrator
Valerie Wilding, Pauline Reeves, Lucy Worsley
Genre
Non Fiction
Age range(s)
7+
Publisher
Hachette Children's Group
ISBN
9781526361905
Format
Hardback
Published
03-09-2020
Synopsis
Who needs a Prince Charming when you're busy running the world?

Do you know about the fierce and fearsome pirate who dared to challenge the Queen of England? Or the Indian daughter of a slave who became a warrior queen? And what about the Hungarian princess who became a king when she was just 11...?  From ancient empresses and warrior queens, to fearsome pirates and modern-day monarchs, Fabulously Feisty Queens explores the lives and legacies of history's most powerful women.

Made of stronger stuff than beauty and grace, discover just how bright, brave, brilliant and clever the world's female rulers have been throughout the centuries.  With a foreword by historian and Chief Curator at Historic Royal Palaces, Lucy Worsley and illustrations by Pauline Reeves.
Reviews
Fabulously Feisty Queens is a recollection about 15 of the most bright, brave, and brilliant female rulers in history by Valerie Wilding. From ancient empresses and warrior queens to fearsome pirates and modern-day monarchs, this book explores the lives of powerful females that have left behind legacies that will be continued to be remembered for generations.

The book includes a foreword by historian and chief curator at the Historic Royal Palaces, Lucy Worsley, as well as fabulous illustrations by Pauline Reeves that accompany the factual information that is written with humour. It is easy to comprehend and even gives the brutal reality that some of these women had to face - imprisonment, warfare, and death.

I really like how the recollections give you and insight into how important they were and why, but also what kind of a person they were and how they lived their lives. From a cultural perspective this book takes you around the world, from the Scottish Highlands to Ancient Egypt, and brings the legacies alive.

This book would be a great accompaniment to many of the KS1 and KS2 history topics - from revolts against the Romans, to pirates and explorers, Chinese dynasties and monarch's past and present. Each recollection would be a good teaching resources and should help to create discussion points for further historical investigations.

32 pages / Reviewed by Hayley Summerfield, teacher.
Suggested Reading Age 7+
Other titles