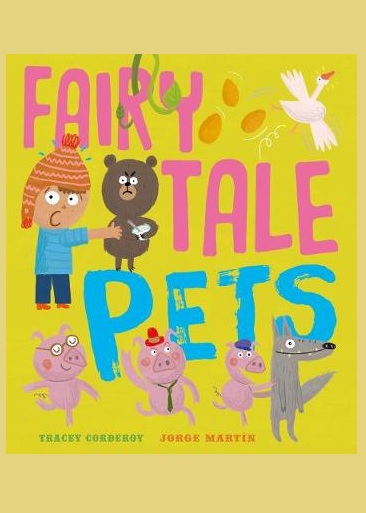 By Author / Illustrator
Tracey Corderoy, Jorge Martin
Genre
Fairy Tales & Folk Tales
Age range(s)
3+
Publisher
Little Tiger Press Group
ISBN
9781848694422
Format
Paperback / softback
Published
08-02-2018
Synopsis
Bob has decided to be a pet-sitter. He just can't wait for all the cute hamsters and bunnies to arrive! But when Goldilocks asks him to look after her grumpy baby bear, the fairy tale chaos begins... Spot your favourite characters misbehaving in an all-star cast as the golden goose, three billy goats gruff and - yikes! - a troll arrive at Bob's door. Whatever will he do?

A hilarious new picture book from award-winning author Tracey Corderoy (Squish Squash Squeeze!, Now!, Why?, More!) and talent illustrator Jorge Martin. Perfect for anyone who has ever wondered what fairy tale pets get up to in their spare time!
Reviews
June
Fairy Tale Pets tells the story of Bob and his dog, Rex. They have an idyllic life apart from one thing - they are poor. Bob hits upon the perfect scheme to make money - they will look after pets, such as dogs, cats, hamsters, that sort of thing. So, up goes the advert and in come the pets. There's the golden-haired girl who brings a bear; a boy called Jack who brings a goose; a strange-looking, growly-sounding lady with three billy goats and, to cap it all, three pigs arrive with their 'puppy'.
It won't be long before young readers realise that the pets are characters from fairy tales, which makes this book perfect for an adult to share with a young child and talk about the fairy tale behind the pet. The ending, when the results of the 'puppy's' huffing and puffing mean that Bob and Rex have to embark on a new money-making venture, involving gardening and the beans that Jack gave them in payment, also encourages revisiting of the original tale.
The illustrations are colourful and simple but the range of expressions of the baby bear's face cover the whole gamut of emotions and provide yet more opportunity for discussion.
Picture book / Ages 4+ / Reviewed by June Hughes, school librarian.
Suggested Reading Age 5+
Other titles