Finn's Little Fibs: A Big Bright Feelings Book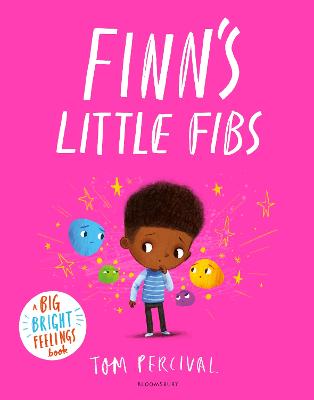 By Author / Illustrator
Tom Percival
Genre
Mental Health & Wellbeing
Age range(s)
5+
Publisher
Bloomsbury Publishing PLC
ISBN
9781526642479
Format
Paperback / softback
Published
06-07-2023
Synopsis
Finn has always loved going to stay with his grandma . . . until one day, he tells a little fib that gets out of control! A book about telling the truth, from the bestselling author of the Big Bright Feelings series.
Be open, be honest, be you! Big Bright Feelings for little people.  When Finn accidentally breaks his grandma's precious clock, he tells a teeny tiny little lie - and blames it on his sister instead! Soon, Finn's little fib is OUT OF CONTROL, and it's getting in the way of everything! Can he find a way to tell the truth?
This reassuring and humorous book is the perfect springboard for talking to children about the importance of honesty. Tom Percival's Big Bright Feelings series is the ideal starting point for discussions about mental and emotional health, positive self-image, building self-confidence and managing feelings. Every child's bookshelf should contain his books. Also available in the Big Bright Feelings series: Ruby's Worry, Perfectly Norman, Ravi's Roar, Meesha Makes Friends, Tilda Tries Again, Milo's Monster. Collect them all!
Reviews
Jen
From the talented author of Ruby's Worry and Herman's Letter comes another book from the Big Bright Felling series, Finn's Little Fibs: A Big Bright Feelings Book. This book is one to add to every child's shelf.
Finn and his sister are going to stay with Grandma. While there, Finn tells a small fib after breaking his Grandma's clock. This grows and grows as he tries to explain everything. The fibs make Finn feel a bit weird and stop him enjoying himself. Finn learns that when you tell the truth, you feel much better.
In this book the fibs are shown as coloured blobs floating in front of Finn. This helps children to visualise the fibs being told. This simple story helps children understand that honesty is important. A wonderful book to begin conversations with young children. A reminder to all children that we need to talk about how we are feeling.
Picture book / Reviewed by Jen Bevan, teacher
Suggested Reading Age 5+
Other titles