Foxglove: The thrilling gothic fantasy sequel to Belladonna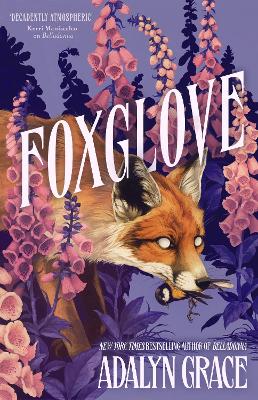 By Author / Illustrator
Adalyn Grace
Genre
Fantasy
Age range(s)
14+
Publisher
Hodder & Stoughton
ISBN
9781399705134
Format
Hardback
Published
22-08-2023
Synopsis
The captivating sequel to the Gothic fantasy Belladonna, in which Signa and Death face a supernatural foe determined to tear them apart.

A duke has been murdered. The lord of Thorn Grove has been framed. And Fate, the elusive brother of Death, has taken up residence in a sumptuous estate nearby. He's hellbent on revenge after Death took the life of the woman he loved many years ago...and now he's determined to have Signa for himself, no matter the cost.

Signa and her cousin Blythe are certain that Fate can save Elijah Hawthorne from prison if they will entertain his presence. But the more time the girls spend with Fate, the more frightening their reality becomes as Signa exhibits dramatic new powers that link her to Fate's past. With mysteries and danger around every corner, the cousins must decide if they can trust one another as they navigate their futures in high society, unravel the murders that haunt their family, and play Fate's unexpected games-all with their destinies hanging in the balance.

Dangerous, suspenseful, and seductive, this sequel to the story of Signa and Death is as utterly romantic as it is perfectly deadly.  'Secrets, curses, mystery, romance, and Death!' Jennifer L. Armentrout.  Praise for Adalyn Grace:  'Decadently atmospheric' Kerri Maniscalco; 'Deliciously gothic' Renee Ahdieh; 'Deadly gothic romance' Stephanie Garber;  'Darkly romantic' Adrienne Young
Reviews
Linda
Foxglove is the dark, captivating sequel to the Gothic-infused Belladonna.  However, in this suspenseful and dramatic part of the story, Signa and Death face a supernatural enemy who is determined to tear them apart...
During a party at Thorn Grove, Lord Wakefield is murdered and Elijah Hawthorn, the Lord of Thorn Grove has been framed for this act. Who is the stranger that accused him? The brother of Death, Fate has taken over an estate nearby to Thorn Grove in order to get closer to Signa. Why is he so interested in her? What will he do to get her away from Death?
Signa and her cousin Blythe are certain that Fate can save Elijah Hawthorne from prison. However, in order for him to help, they must accept his invitations to visit. These visits have consequences for Signa as she shows dramatic new powers that link her to Fate's past. With mystery and danger around every corner, the cousins must decide if they can trust one another as they unravel the murders that haunt their family, and play Fate's unexpected games.
Foxglove immerses its readers into a dark, dangerous and romantic world.  The author Adalyn Grace has once again woven a wonderful web of intrigue, betrayal, trust and loyalty into this gothic fantasy novel. The book would also be great for book clubs as it has many discussion points around the subject of the afterlife, the supernatural and of course death.
I can easily recommend this as a must read for 2023 and hopefully like me you will be eager for the concluding book, Wisteria.
464 pages / Reviewed by Linda Brown, school librarian
Suggested Reading Age 14+
Other titles