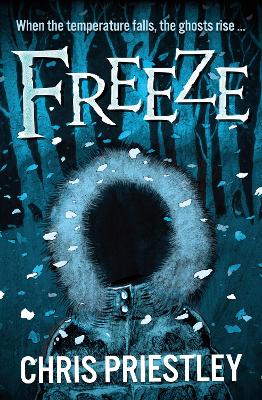 By Author / Illustrator
Chris Priestley
Genre
Supernatural
Age range(s)
9+
Publisher
Barrington Stoke Ltd
ISBN
9781781129838
Format
Paperback / softback
Published
02-09-2021
Synopsis
Award-winning master of scary stories Chris Priestley returns with a spine-tingling collection of ghostly tales to chill you to the bone ...
When Maya and her classmates are asked to write a creepy story with a winter theme, they come up with some brilliant ideas. Rising floodwaters uncover long-buried bodies and ghostly children take to the ice on a frozen canal. But as each of the stories is read out in class, Maya grows more and more uncomfortable. She features in each of her friends' creepy tales and they start to feel a little too real. Finally, when a mysterious new girl stands up to read the last story of the day, the light outside dims and it starts to snow. The classroom starts to freeze but everyone is trapped. Can Maya stop the story before the nightmare comes true?
Reviews
Beverley
Maya awakes one morning with a strange feeling that something bad is going to happen. At school, she meets her friends Carla, Jason and Tomas and all four children say that they had experienced bad nightmares the previous night. In class, Maya sits next to a mysterious new girl. She has white skin, jet black hair, and is wearing a silver coat with a fur lined hood and says that her name is Winter.
The classmates are asked to write a creepy story on the theme of winter and then are asked to read out their story to the rest of the group. As Tomas, Carla and Jason read out their stories, Maya finds herself drawn in to a world of sinister snowmen, drowned children, violent floods, and evil Jack Frost puppets. The four friends are the main characters in each chilling tale, but who is the mysterious girl in the silver coat who also makes an appearance?
Freeze is a wonderful collection of scary stories which weave together perfectly to form a brilliant little book. Each story is chilling in its own right - I particularly love the gruesome snowmen who "looked like they had melted and all their features had drooped and then refrozen"! The author manages to make each story scary without being too terrifying for the younger reader and the book has a tremendous sense of drama, making it a real page turner. The ending of the story is also particularly clever; we are left unsure as to what is real and what is a dream.
Chris Priestley really is the master of the ghost story, and he also provides the wonderful black and white illustrations for Freeze, which perfectly complement the text. Published by Barrington Stoke, the font style and colour of the paper used make it accessible to dyslexic and reluctant readers, although the quality of writing is so good that it would appeal to any lover of the horror genre. Every classroom and school library should have a copy of this gem on their shelves!
Reviewed by Beverley Somerset. School Librarian
Suggested Reading Age 9+
Other titles