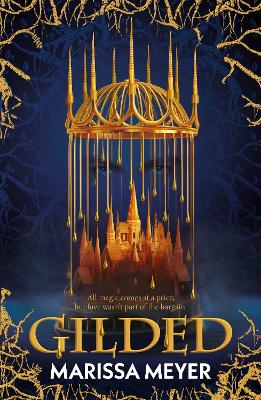 By Author / Illustrator
Marissa Meyer
Genre
Fairy Tales & Folk Tales
Age range(s)
11+
Publisher
Faber & Faber
ISBN
9780571371587
Format
Paperback / softback
Published
02-11-2021
Synopsis
All magic comes at a price, but love was never part of the bargain . . .The look he was giving her. Serilda had never been looked at like that before . . . The intensity. The heat. The raw astonishment. He was going to kiss her!
Cursed by the god of lies, a miller's daughter has developed a talent for storytelling - but are all of her tales as false as they appear? When one of Serilda's stories draws the attention of the devastating Erlking, she finds herself swept away into a world of enchantment, where ghouls prowl the earth and ravens track her every move. The king locks Serilda in a castle dungeon and orders her to spin straw into gold, or be killed for lying. In despair, Serilda unwittingly summons a mysterious young man to her aid. And he agrees to help her, for a price. But love wasn't meant to be part of the bargain.
A compulsive read, and as bewitchingly good as you'd expect from a YA bestselling author. You will stay up all night reading this.
Reviews
Linda
It's been a while since I picked one of Marissa Meyer's wonderful reimaginings of our famous fairytales, (if you haven't already, you need to check our her Lunar Chronicle series). In Gilded she does the Grimm Brothers really proud as it's full of all the dark, otherworldly, nightmarish creatures you have imagined in the original. Rumpelstiltskin becomes Gilded...
Serilda, a humble miller's daughter has a talent of spinning stories, however, as wonderful as these stories may be, only the village children admire them; the adults call them lies and, due to her unusual eyes that sparkle with golden wheels, believe that she has been cursed by the God of lies. But do all stories have some underlying truth in them?
On the night of the Crow Moon Serilda, in order to get herself out of trouble, spins a story to the Erlking, when he approaches her during his magical, terrifying night hunt. He puts her to the test, locks her in his dungeon and orders her to spin straw into gold, just like she claimed she could do. If she fails, she pays with her life!
This is not just a magical and enchanting retelling of Rumpelstiltskin but also a delve into German folklore as the author has weaved characters from their folklore into her story, for example, Erlking, Nachtkrapp (strange black raven like birds), Moss maidens etc. All adding to a dark tale full of fear, creepiness, deception and a bit of romance for good measure, that will keep many YA readers totally engaged.
This well written story will keep the 12+ reader engaged from beginning to end. Due to the further reading opportunities, it would also be great for book clubs. The author's characters are brilliantly crafted and come to life before your eyes. With the cliffhanger of an ending, there has got to be a sequel and I'm so looking forward to reading it.
512 pages / Reviewed by Linda Brown, school librarian
Suggested Reading Age 11+
Other titles