Girls Rule: 50 Women Who Changed the World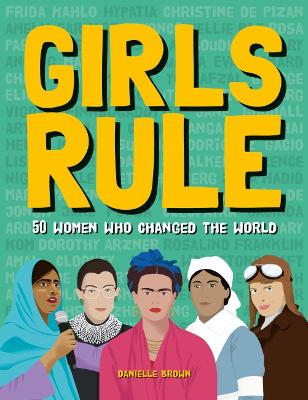 By Author / Illustrator
Danielle Brown
Genre
Non Fiction
Age range(s)
9+
Publisher
Button Books
ISBN
9781787081390
Format
Hardback
Published
10-10-2023
Synopsis
From fierce pirate leaders, warrior queens and spies, to pioneering mountaineers, conservationists and scientists, Girls Rule explores 50 phenomenal females whose accomplishments have left a lasting impression and legacy. Discover these amazing women some well-known, others not often explored talented in science, politics, architecture, activism, the arts, palaeontology and more! Figures include: Rosa Parks, Mary Anning , Ruth Bader Ginsburg , George Eliot and Zaha Hadid. 
Paralympian gold medalist Danielle Brown introduces Girls Rule 
Reviews
Julie
Written by Danielle Brown, British paralympic gold medallist and world champion archer, Girls Rule features 50 of the most inspirational women throughout history. Beginning with Danielle's introduction, we can see how passionate she is about inspiring young women, girls and disabled people that they, too, can achieve their own goals.
By using the inspirational stories of great women who have left a lasting legacy, the uplifting and life-affirming stories prove that anything is possible. I loved that the women featured in this book are from a wide range of diverse places and backgrounds, with their various achievements spread far and wide and throughout history, right up to the modern day. Ranging from Frida Kahlo to Marie Curie, from Maya Angelou to Wangari Maathai, to name a few, each story is succinctly told. Each person has a double page spread explaining what they have achieved and how they have made a difference in their field.
I liked that she uses the same format for each person. The text and information is clear and well thought out. Each biography is accompanied with a bold and beautiful illustration. This really helps bring the book alive and each picture is bright and vibrant. The book is jam-packed with nice, easily accessible information. The reader can simply choose to dip in and out of the book at their will. With a great contents and index page, it makes it really easy for readers to navigate their own way through the book.
I particularly liked the introduction from Danielle Brown explaining to the reader why she chose to write the book and why she wanted it to be not only informative but inspirational, too. I think she has very much succeeded in achieving this. I think this book has something for everyone and I am sure readers who love biographies and inspirational stories will absolutely love this book.
Julie Broadbent School Librarian
Suggested Reading Age 7+
Jennifer
Girls Rule is a fantastic non-fiction book that celebrates female achievements throughout hundreds of years of history and is written by an inspirational role model herself, double Paralympic gold medalist and five times World Champion Archery sports star, Danielle Brown. This book documents 50 amazing, diverse , accomplished and determined women; it features their childhood stories, early dreams and their challenges and perseverance through their lives.
The range of women within the book is incredible; political, cultural and historical figures that we may already know something about alongside lesser-known but equally impressive and high flying females. There is a wonderful double page spread on each of the women with gloriously coloured bold illustrations and, for many, a powerful, enlarged quote from many of the individuals that the book joyously applauds. From women of the past like Cleopatra (who smuggled herself into Caesar's palace rolled up in a carpet), Rosa Parks and Amelia Earhart to world famous Beyonce and young Madeline Stuart (the first ever professional model with Downs' Syndrome), Girls Rule champions and hold high these resilient, resourceful women as role models to empower the reader.
Their personal journeys, with all their highs and lows, make fascinating reading and the reader learns about their individual stories as well as the era and background context in which they succeeded. As well as being a source of information for each particular woman, the book as a whole shines a light proudly on the feminist movement, on the shifts within the whole landscape of women in society over many, many years across the entire world. Girls Rule is a brilliant , captivating and awe-inspiring collection of extraordinary role models.
Suggested Reading Age 7+
Louisa
In her follow up to Run Like a Girl, Dannielle Brown introduces fifty incredible 'women who changed the world'. The selection of women is diverse in every sense but all the women have one thing in common: they had to overcome extraordinary odds to achieve more than they ever thought they could. The message - there is a way around every barrier for those courageous enough to persevere - is empowering.
The variety of women featured is compelling. Alongside the well-known figures like Malala and Rosa Parks, you will find much less famous but no less remarkable figures: Hypatia - an astronomer from ancient Alexandria; Christine de Pizan - a Medieval writer; Zheng Zhenxiang - a Chinese archaeologist; Zaha Hadid - an award-winning Iraqi architect; Madam C J Walker - the first female self-made millionaire. For me, it was the discovery of so many unknown stories that was the joy of reading this. I felt humbled by my ignorance and inspired by what can be possible. 
Girls Rule would be a fabulous book for dipping into with a class - each double page story would easily fit into an end of the day read aloud session. It also offers great writing models for biographical accounts. The writing is clear but the choice of phrasing and vocabulary is sophisticated enough to provide challenge. Children who prefer fact-based books will find plenty to engage them in reading for pleasure sessions. The text is enhanced by the clean design and the sturdy hardback binding means it will stand up well to being passed around.
The 'inspirational story' genre is expanding fast and I approach these books now with a critical eye. For me, this one passed the 'worth investment' test.
112 pages / Reviewed by Louise Farrow, teacher
Suggested Reading Age 7+
Other titles