Run Like A Girl: 50 Extraordinary and Inspiring Sportswomen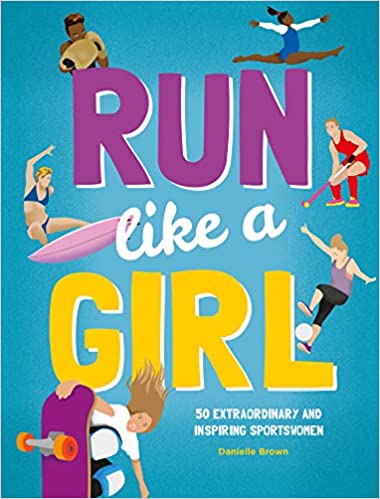 By Author / Illustrator
Danielle Brown
Genre
Personal Growth
Age range(s)
9+
Publisher
Button Books
ISBN
9781787081086
Format
Paperback / softback
Published
07-07-2021
Synopsis
All over the world, there are female athletes breaking barriers, pushing limits and achieving amazing things, but where did their journeys begin? And what challenges did they have to overcome to get where they are today?
Run Like a Girl is a collection of fascinating biographical stories told by 50 highly successful sportswomen, from boxing superstar Nicola Adams to record-breaking yachtswoman Ellen MacArthur and fearless mountain biker Rachel Atherton. As well as giving an insight into their influences, motivations and achievements, each story reminds us that failing can teach us just as much as winning; success isn't limited to the sports field; and 'running like a girl' can lead you all the way to the top. AGES: 7 to 12
Watch the trailer by author Danielle Brown MBD to find out what inspired Danielle to write the book.  Danielle is a double Paralympic gold medallist and five-time World Champion in archery. She was World Number 1 for her entire career and made history when she became the first disabled person to represent England and win gold as an able-bodied athlete at the Commonwealth Games. Danielle now works as a professional speaker and trainer, specialising in self-development and success skills. She has worked in the education sector for over a decade, inspiring over 30,000 students through her programmes.
Reviews
Jennifer
Run like a Girl is a fantastic book featuring the fascinating and inspirational achievements of 50 amazing sportswomen. Each phenomenal female gets a double page spread (beautifully stylish with bold, colourful illustrations) that celebrates their successes, strengths and also their personal struggles. It is written by Danielle Brown, herself a double Paralympic gold medallist (and rightly one of the 50 women the book champions).
Brown takes the supposed insult of being told that you 'run like a girl' and flips it into an awesome compliment. There is a rousing and powerful opening section to the book that empowers the reader from the start ; 'You're strong and brave and fierce. Like a girl'. This is a book that promotes women harnessing their passions and pushing through obstacles to achieve their goals.
Each sportswoman's story is far more than just a look at their athletic success but takes the reader into their background to how and where their path began. We read about current figures from the recent Olympics with great interest: The amazing gymnast Simone Biles , who began her early life in foster care; cyclist Laura Kenny, who is now one of GB's most successful female athletes and who spent the first six weeks of life in intensive care; and 13 year old skateboarder Sky Brown (see extract) who is already involved in charity work in Cambodia, passing on her skills and belief in education.
The layout of the book is modern, fresh and engaging. Each biography starts with an apt ' ………..like a girl' phrase, so Bethany Hamilton ( a pro-surfboard champ who lost an arm to a shark attack at 13) is, fittingly, 'Brave like a girl'.
There is a positive and powerful quote from each sportswoman in big, bold text in their section that the reader can pick out for instant inspiration. We learn about how they faced setbacks, overcame injury and adversity and pushed on with their dreams. Run Like A Girl is a great book with fabulous influential women that are lighting up the sports' world and are standing as huge talents to emulate and admire.
112 pages / Reviewed by Jennifer Caddick, teacher
Suggested Reading Age 7+
Louisa
Across the world, there are female athletes hurdling barriers, breaking records and notching up phenomenal personal achievements. Run Like a Girl is a celebration of these women through 50 biographical stories that explore what it took for them to reach the top of their sports. Many have had to face adversity, doubt and disability. All have shown determination, commitment and tenacity as well as talent.
The author, Danielle Brown, is a double Paralympic gold medallist and five-time World Champion in archery. Her new mission is to inspire others to unlock their potential, whatever their circumstances, and to redefine outdated stereotypes. The biographies are brief and they cover a lot of achievements but they delve deeper, too. Danielle has interviewed a lot of the subjects herself and every story reminds us that failing can teach us as much as winning.
While some of the women are celebrated household names, many are less well-known. The range is wonderfully broad and it's impressive to see women from all over the world and from such a huge range of sports. Each story is accompanied by illustrations rather than photographs, which give a real sense of the characters behind the stories. I specially like the one of Nicola Adams: two determined eyes poised behind enormous gloves.
Of course, the difficulty with books like this is the speed with which they date. These illustrations help to give it a more timeless feel and to focus on the essence of the stories: sometimes you have to believe in yourself when no one else does. I took my copy into school and it's already been 'borrowed' by a colleague as inspiration for a new PE display. I hope that Danielle would be happy.
112 pages / Reviewed by Louisa Farrow, teacher
Suggested Reading Age 7+
Other titles