Goldilocks and the Three Crocodiles (paperback)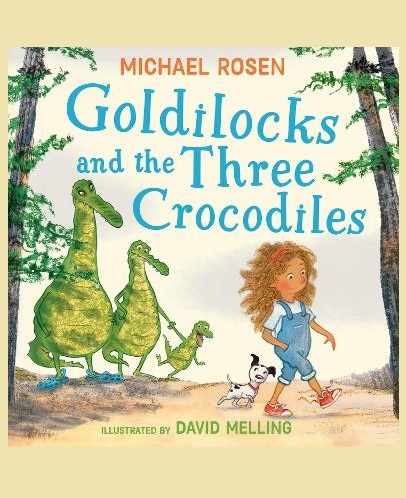 By Author / Illustrator
Michael Rosen, David Melling
Genre
Fairy Tales & Folk Tales
Age range(s)
5+
Publisher
HarperCollins Publishers
ISBN
9780008509927
Format
Paperback / softback
Published
25-05-2023
Synopsis
A fabulously funny take on a classic story from two giants of children's books!
Goldilocks and her little dog are off on an adventure, looking for that house again - the one with the chairs, the porridge and beds. The sound of the sea calls to them and before they know it, they have found quite a different sort of a house . . . there are bowls, and chairs and sort-of beds . . . plus some rather unexpected and hilarious inhabitants!
From Michael Rosen, the highly regarded author of We're Going on a Bear Hunt, comes this wonderful new take on the famous nursery rhyme, brilliantly brought to life by David Melling, the creator of Hugless Douglas.
Find out more from illustrator David Melling
Reviews
Amanda
Have you ever wondered what would happen if you combined the familiarity of Goldilocks and the Three Bears and the brilliance of We're going on A Bear Hunt? Well wonder no more. Michael Rosen, former Children's Laureate, has used his talents of adding humour when creating a wonderful rhyming picture book to his reimagining of this classic fairytale.
David Melling's warm and expressive images with beautiful use of texture adds to the rhyme and repetitive text that will be enjoyed. Children will enjoy the predictable elements in the story along with the crocodiles wearing crocs, slimy chairs, crunchy seaweed, bed shells and the cuddly crocodile at the end.
One bright morning, Tiddles the dog said to Goldilocks, "We could see if we could find that house, the house with the chairs. There was porridge and beds. You went in … there were THREE BEARS!" This is a fabulous twist on a familiar story that can be used in so many ways in school. It would be a clear choice if you were to be comparing texts in KS1; it would be amazing if you were focusing on rhyme or the effective use of different sentence lengths; and it would effectively encourage a love of reading. Children would love to retell and act out this story to demonstrate their abilities to order a text. The list goes on.
Michael Rosen does not disappoint and, in partnership with Davis Melling, they have created some thing quite magical.
Picture book / Reviewed by Amanda Shipton, teacher
Suggested Reading Age 5+
Maria
Did you know that Goldilocks had a dog? Well if you did not, do get a copy of Goldilocks and the Three Crocodiles by the talented Michael Rosen and David Melling, and join Goldilocks and her dog Tiddles as they embark on a familiar journey with chairs, bowls and beds!
This wonderful book has recognisable text and illustrations which hook the reader into this new, clever story with memories of We're going on a Bear Hunt and the traditional tale of Goldilocks and the Three Bears but...it cleverly tells the tale of fish chairs, bowls of seaweed, huge shells to sleep in and crocodiles who discover mayhem when they return from trip to the seaside. 
Repeated phrases encourage children to join in, predict and have SO much fun.  The children thought this was the best book they had read and wanted to read it again, always a winner if this happens! The illustrations by David Melling are brilliant and show the antics Goldilocks and Tiddles get up to and the beautiful beach they are exploring. A 5 star review. This book is a must for every classroom!
Picture book / Reviewed by Maria, teacher
Suggested Reading Age 5+
Maria
Goldilocks is back! Thanks to the well known author Michael Rosen and illustrator David Melling, we are reunited with the much loved character of Goldilocks in Goldilocks and the Three Crocodiles. But this time we meet her pet dog, Tiddles!
In this fantastic alternative to the well known tale of Goldilocks and the Three Bears, we are taken on a similarly structured tale through the beach to a cave where Goldilocks persists in finding the perfect chair, food and bed. Will history repeat itself or will Goldilocks finally learn not to be the unwanted visitor in a family's home?
This text covers everything you need to teach story writing and is the perfect example of innovating a known story. This high quality text introduces the reader to a range of skills, from descriptive vocabulary choices, speech and text size; you can't go wrong with this book. The bold, detailed illustrations add great context to the story and will assist in younger and the less able readers being able to access and understand the story in more detail. All round, a great book to use as a teaching aid or to expose children to new literature.
Picture book / Reviewed by Maria Faithorn, teacher
This review has been adapted from an earlier review of Goldilocks and the Three Crocodiles in hardback
Suggested Reading Age 5+
Other titles