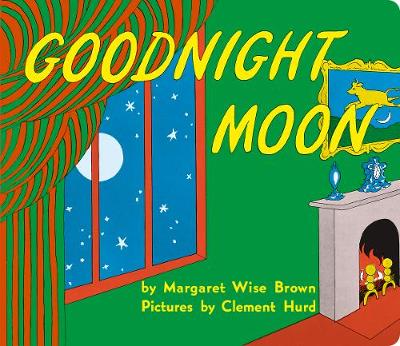 By Author / Illustrator
Margaret Wise Brown, Clement Hurd, Clement Hurd
Genre
Adventure
Publisher
Pan Macmillan
ISBN
9781509831975
Format
Board book
Published
26-01-2017
Synopsis
Chosen as one of BookTrust and Supernanny Jo Frost's Best Bedtime Reads for Newborns.

This gentle bedtime story, which has lulled generations of children to sleep, is the perfect first book to share at bedtime.

In a great green room a little bunny is tucked up snugly and safely in bed and is getting ready to say goodnight to all the familiar things in his room, one by one.

Margaret Wise Brown's comforting, rhythmical text accompanied by the warmth of Clement Hurd's classic mid-century illustrations make Goodnight Moon a timeless picture book, which is known and loved around the world. Printed now with a beautifully vivid orange pantone ink to recapture the magic of the 1947 original, Goodnight Moon makes the perfect birthday or christening gift.
Reviews
Torie
Originally published in 1947, this bedtime story is now celebrating its 70th anniversary. The gentle, rhythmic poem is filled with goodnight wishes to help lull small children to sleep. In a great green room, a small rabbit is tucked up tight in his warm, snug bed. Preparing for sleep - or perhaps trying to delay it - the little rabbit wishes goodnight to everything in the room, including 'a little toy house and a young mouse', 'and a comb and a brush and a bowl full of mush'. This may be the perfect story for bedtime. The repetition and rhyme will allow young children to 'read' along, joining in with the story. The whimsical illustrations alternate between bold, full page coloured illustrations showing the whole room and small grey scale pictures that focus in on individual items and features within the room. Children will have fun spotting the items in the goodnight wishes within the room. They are all there, including an elusive little mouse that moves around the room. As the book comes to an end the room darkens, with the brightness of the stars, the fire and the windows in the toy house seeming to glow. Little rabbit can be seen sleeping soundly in the great green room. The soft rhythmic beat of the words alongside the rhyme make this books perfect for enchanting children to sleep. A firm favourite for bedtime. Picture book / Ages 0+ / Reviewed by Torie Walton, teacher.
Suggested Reading Age 0+
Other titles