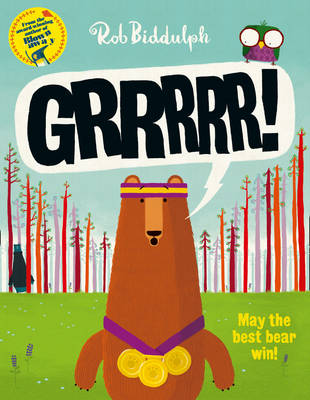 By Author / Illustrator
Rob Biddulph
Genre
Friends and family
Age range(s)
3+
Publisher
HarperCollins Publishers
ISBN
9780007594139
Format
Paperback / softback
Published
28-01-2016
Synopsis
Come join Fred the Bear on a stunningly illustrated journey to be crowned the best bear in the wood and, just maybe, learn that there might be more to life than training... from the creative genius behind the #DrawWithRob phenomenon and the bestselling and award-winning Blown Away!
Each year, for as long as the forest has stood,
A contest is held for the bears of the wood...
And Fred is the champion. He's just that good.
Fred is the Best Bear in the Wood - and he's got the medals to prove it. Being the best takes a lot of hard work, and time on your own, but Fred doesn't mind.  Until a new bear moves to town, and Fred's champion GRRRRR goes missing... How will he ever win now? Or will Fred instead learn that some things are more important than winning?
A captivating and witty picture book from the incredible Rob Biddulph, the creative star behind the viral and phenomenal #DrawWithRob, as seen on YouTube, FaceBook, Instagram, CBeebies and TV news everywhere, and the Waterstones Book Prize-winning Blown Away!!  This is the perfect story for boys and girls of 4+ to share with their families. Get ready to win and enjoy Rob Biddulph's trademark warm-hearted humour.
Reviews
Linda
A grizzly, called Fred, 'is the star of the show' in Grrrr by Rob Biddulph - you might have seen his earlier picture books including Blown Away and Odd Dog Out.
This grizzly is obsessed with winning prizes - something he's good at, and especially given his talent for growling the loudest. So what happens the day that Fred loses his 'Grrrrr!'? - and how can his animal friends help him to find it, in time for the competition to find the best bear in the woods?
This isn't, though, a story about winning prizes; it's a tale about appreciating your friends. By the end of the story, Fred has discovered that there are more important things in life than winning trophies - and he has also made a new friend along the way.
The story is told in an engaging rhyming verse and, together with the bold illustrations, this makes it a perfect read-aloud. There are plenty of 'Grrrrrs' through the story that children will love joining in with, and they might also like to talk about the things they are - or want to be - good at, and how much practice it takes to be good at things you love doing. There are also lots of opportunities to talk about friends and helping one another.
Picture book / Reviewed by Linda Winter.
Suggested Reading Age 3+
Other titles