Harley Hitch and the Iron Forest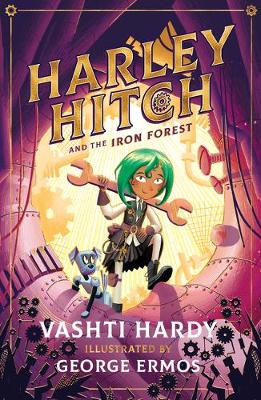 By Author / Illustrator
Vashti Hardy, George Ermos
Genre
Environment
Age range(s)
7+
Publisher
Scholastic
ISBN
9780702302558
Format
Paperback / softback
Published
01-04-2021
Synopsis
Join Harley, her robot dog Sprocket and best friend Cosmo for problem-solving adventures and mysteries in Inventia, a world where science rules and technology grows in the forest; and where exploding science projects, giant slugs and runaway robots are all part of a normal school day. The Iron Forest near Harley's home is unlike any other - plants and trees grow cogs and hinges and other mechanical parts - and all of Inventia depends on it. So when a strange fungus is discovered, there's a race to find a solution. Without essential parts for inventions, the town is quickly falling apart... But just who or what is behind the mysterious infestation? Harley decides it's up to her to save the day - with chaotic results!
Perfect for fans of Amelia Fang and Isadora Moon, this is a rollicking adventure that celebrates STEM learning! Heavily illustrated with lively, humourous illustrations by George Ermos. Vashti Hardy is an award-winning author of children's books. Her novel Wildspark won the Blue Peter Book Award for Best Story 2020, and Brightstorm was shortlisted for the Waterstone's Children's Book Prize
Reviews
Nicola
Vashti Hardy has done it again! Harley Hitch and the Iron Forest is an absolute triumph and a joy to read, in fact this book has not seen the shelf since it arrived in school.
The story starts in the unusual town of Inventia, a place where science and engineering rule, where the trees are made of cogs and metal and the pets are built to requirement. One day an awful fungus infects the forest that the town relies on and Harley, along with her new friend Cosmo, have to fight against time as they desperately try to save the forest and their entire way of life. The only problem is the fungus is spreading much more quickly than they thought and the tricky Fenelda, Harley's nemesis, is also trying to save the day.
This book has so many beautiful links and can be enjoyed by so many for so much. There is the tender development of new friendships and being accepted for who you really are, the desperate lengths that people will go to in order to right a wrong, and an overwhelming message of protecting the environment that we live in. There are some brilliant STEM link opportunities here as well as some PSHE and geography links to be made with regards to saving our environment and standing true to yourself.
256 pages / Ages 7+ / Reviewed by Nicola Mansfield Niemi, teacher
Suggested Reading Age 7+
Other titles