Hope Jones Clears the Air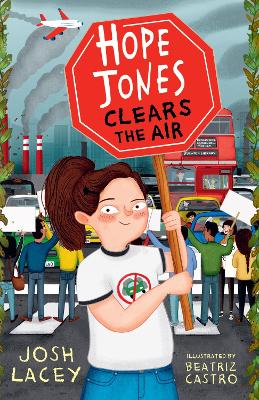 By Author / Illustrator
Josh Lacey, Beatriz Castro
Genre
Environment
Age range(s)
7+
Publisher
Andersen Press Ltd
ISBN
9781839130526
Format
Paperback / softback
Published
01-07-2021
Synopsis
Hope Jones hates cars - they turn the air brown and make everyone sick. Her friend Selma has asthma, and Hope's bogeys are black, not green like they should be! There's an air pollution problem where Hope lives, and she's decided to do something about it. Writing on her blog and protesting outside her school, Hope has decided to clear the air by taking on the cars. But with adults so busy thinking about their busy lives, can one child really make a difference?
Reviews
Jennifer
This is the third Hope Jones book in the series. This time, the impassioned and pro-active Hope has air pollution on her mind (as well as lungs) and with school friend Selma's frightening asthma attacks on the increase, Hope is determined to front a campaign to boycott car usage in her community .
The narrative is delivered again through Hope's blog. She is earnest, dedicated and full of ideas. I enjoy and think it is highly relatable that Hope is often indignant and impatient at the lack of progress and enthusiasm she sometimes encounters from adults (just as a child would likely be) and doesn't always understand that change can't happen immediately. In this way , the author shows both sides of the dilemma ( the idealistic solution and the practical realities) within the natural flow of the story.
The story is a fast-paced, fun and engaging narrative text, which lends itself to sharing with the reader an immense amount of useful factual information in a very accessible way. I loved that the storyline in Hope Jones Clears the Air sees Hope travel to Amsterdam and see a town modelling a car free zone and the benefits it has created. Expanding Hope's horizons also expands the reader's connection with her mission and how relevant it is in our society and future.
The Hope Jones series is packed with inspirational and positive messages given by a likeable and endearing main character who isn't perfect herself, and so readers of the same age will see themselves reflected in her. Hope's ideas are never 'preachy' and the author grounds her campaigns in reality as we know such huge issues as Hope protests against are long lasting tasks. Even Hope has to let her own rules bend at at times (getting into mum's car on mum's birthday, despite her car boycott pledge). The illustrations throughout, by Beatriz Castro, are brilliant and vital and deliciously grace nearly every page. There is a seamless use of a whole diverse range of characters in the story which the illustrations bring to life visually.
Hope Jones is lively, humorous narrative with non-fiction additions, delivering fascinating facts alongside an exciting story to see whether Hope can achieve her aim of a car free community. I really do recommend this series to to those who want a exuberant read with a strong plot and purpose.
176 pages / Ages 7+ / Reviewed by Jennifer Caddick, teacher
Suggested Reading Age 7+
Other titles