Hope Jones Will Not Eat Meat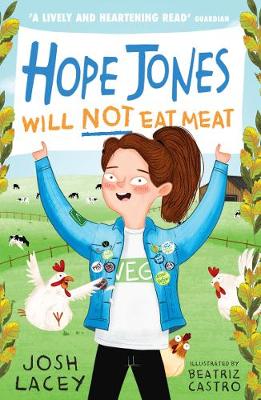 By Author / Illustrator
Josh Lacey, Beatriz Castro
Genre
Environment
Age range(s)
7+
Publisher
Andersen Press Ltd
ISBN
9781783449392
Format
Paperback / softback
Published
07-01-2021
Synopsis
You're never too young to make a big difference, as Hope Jones has learned in her fight against plastic pollution. Now she's on a mission to save the animals, and persuade everyone she knows to turn vegetarian. But just how can Hope get Dad to give up his beloved bacon butties?
Reviews
Jane
This book is a great way to weigh up the pros and cons of being vegetarian or vegan because the arguments on both sides are put succinctly and persuasively. Hope and the other characters are believable and their voices are authentic. She may be a strident campaigner, but Hope is open to doubt and, to her credit, changes her stance after listening to others. We could all learn from her.

I liked the clear typeface and lively drawings by Beatriz Castro, as well as Sparkle's jokes. I also think telling the story as a series of blog entries works very well. The references to Charlotte's Web acts as a bit of a teaser which might encourage children to read it. As a librarian, I like that! And likewise the quotes framed within Hope's introductory blog.

This isn't a book which is at all preachy, but it might just convince some readers to eat less meat. And that is another point in its favour - that realism and flexibility can still achieve worthwhile results without being confrontational or self-righteous.

I can see it being used in KS2 classrooms to explore ethical issues around food production/consumption. Hope's speech for the school council election is also a good example of persuasive language which I've already used in a literacy lesson. Regardless of its educational value, this is also a book that reads well and will appeal to many children who like contemporary stories with a sprinkle of humour.

176 pages / Ages 8+ / Reviewed by Jane Rew, school librarian
Suggested Reading Age 7+
Jenny
A fun, fresh and very relevant new illustrated fiction book for young readers that contains big issues.
Hope Jones is a 10 year old girl - part of a young generation determined to use their voices to change the world. In this second of the Hope Jones books, Hope is turning vegetarian and exploring how to lower her carbon footprint, work against animal cruelty and champion tasty veggie options!
The conversational and chatty tone of Hope as the narrator makes the book lively and energetic. Hope is feisty and opinionated and full of ideas and suggestions to convert others to her way of thinking. There is a huge sense of fun, though, when Hope comes up against adults who don't always see eye to eye with her new views - upset dinner ladies are never a good thing and Grandad definitely has his own, differing opinion!
As an adult reader, the scenes with Hope trying to turn Grandad veggie were memorably funny and the tone was just right with the exasperated young Hope and deliberately obtrusive Grandad clashing just like I can recall doing with adults in my own family at Hope's age.
The style of the book is very well thought out and relatable - with Hope's blog posts mixed with posters, letters, tweets and also the great black and white illustrations of Beatrix Castro humorously bringing the characters and scenes to life.
Hope herself is earnest but always likeable and never preachy. Her chatty but informational style drops facts and knowledge to the reader throughout the story ( we learn all about exactly how animal farts contribute to climate change and just how many day to day items contain animal products)
As Hope runs for school council with her passion for saving the world, we get more of an insight into Hope as a regular schoolgirl too - worrying about not being the most popular and this warms the reader to her even more so.
I think that Hope Jones Will Not Eat Meat and the previous book Hope Jones Saves the World are engaging and enjoyable stories - charming and yet powerful ways of introducing some of the important and concerning issues that face the younger generation.
176 pages / Reviewed by Jenny Caddick, teacher
Suggested Reading Age 9+
Dawn
Hope is writing a blog. Having campaigned to reduce plastic in her family and neighbourhood to make a difference to the world, she now has become a vegetarian (well, nearly).

Meeting up again with Sparkle who helped her in her quest to reduce plastic, Sparkle is protesting outside the local butchers. So now Hope is educating herself about how the meat on our plates is farmed.

Trying the vegetarian option for school dinners proved a big disappointment though as it was tasteless, but tackling the dinner ladies about it proved equally unsatisfactory all round as Hope realised too late she would have to be tactful.

Hope does investigate her options as she discovers Veganism and ensures she compensates to replace animal protein with plant based protein. She also finds that not everyone agrees with her as Grandad does not understand at all.

Distraction comes in the form of the School Council where Hope campaigns on a 'Save the World' platform. Democracy works in strange ways, as Hope discovers. Hope also discovers her brother's favourite footballer is vegetarian and emails him.

This isn't a book to scare anyone about eating meat, but presents arguments about responsible farming and the options of carnivore, vegetarian, vegan or flexitarian. It offers options and suggests keeping an open mind.
Beatrix Castro has worked her magic on the line drawings designed to attract readers, and the illustrations scattered on every page breaks up text to make this a very readable book.

176 pages / Ages 8+ / Reviewed by Dawn Woods, school librarian
Suggested Reading Age 9+
Other titles