How to be a Real Ballerina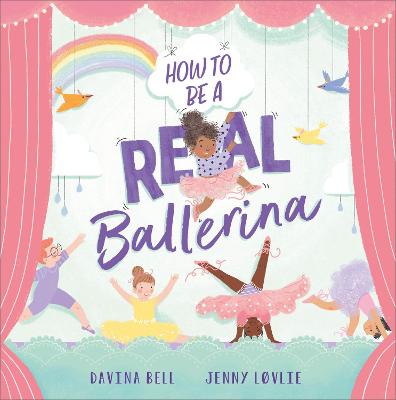 By Author / Illustrator
Davina Bell, Jenny Lovlie
Genre
Representation & Inclusion
Age range(s)
3+
Publisher
Andersen Press Ltd
ISBN
9781839132124
Format
Paperback / softback
Published
06-01-2022
Synopsis
From Davina Bell and Waterstones Award-winning illustrator of The Girls, Jenny Lovlie, comes a beautifully diverse and inclusive picture book perfect for any aspiring dancer. 
There is a lot to learn about being a ballerina. It is hard work and can seem silly at times. If you fall over, don't panic. You don't have to be perfect! But when you walk out on the stage, it will feel like magic and fireworks and Christmas-tree lights in your tummy, and you'll know that no matter what, you're a real ballerina. 
Also by Davina Bell and Jenny Lovlie, I Love Tractors! : the story of one little boy's obsession with all things tractor.
Reviews
Judith
How to be a Real Ballerina is a humorous and inclusive book about the process of learning to become a ballet dancer. We learn about ballet through the eyes of the book's central character. We quickly get the impression that she has not found dance classes at all easy and that her natural wit and confident self-expression are somewhat at odds with the discipline required to succeed at ballet. There are challenges to overcome, like getting used to the costume and hairstyle, which are a little restrictive at first.
Having said that, the illustrations show a delightful and varied group of students who seem to be having a very enjoyable time learning the key steps. In fact, before long they can demonstrate the essential positions. The annual concert is an exciting and joyful occasion, when all the learning pays off, with the occasional mishap!
The messages are that dancing is for everyone, practice makes perfect, but it is more important to feel the magic of the dance. I especially enjoyed the narrator's voice, which gives an entertaining, personal account of how not to do ballet! Reading between the lines we can infer that she has been on quite a learning journey, through which she has acquired much wisdom. I love the fact that the cast of characters is ethnically diverse, male and female and includes a wheelchair dancer.
The illustrations are full of movement, expression, fun and vivacity. Look out for the playful cat on several of the pages. Part of the story is also told in the facial expressions of the characters, especially of the ballet teacher and the other adults in the book, as they react to the antics depicted.
Picture book / Reviewed by Judith Greenall, librarian
Suggested Reading Age 3+
Other titles