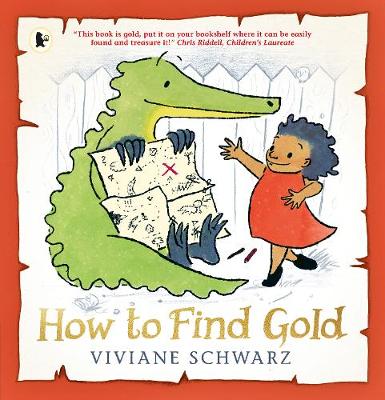 By Author / Illustrator
Silvia Viviane Schwarz
Genre
Picture Books
Age range(s)
3+
Publisher
Walker Books Ltd
ISBN
9781406371642
Format
Paperback / softback
Published
05-01-2017
Synopsis
\"LET'S FIND GOLD,\" said Anna. \"That would be dangerous and difficult,\" said Crocodile. \"Good!\" said Anna. \"Let's go!\"

\"This book is gold, put it on your bookshelf where it can be easily found and treasure it!\" Chris Riddell, Children's Laureate

From the award-winning picture book creator of There Are Cats in This Book comes a story of imaginative play and of two friends, Anna and Crocodile, who are on the hunt for gold. But finding gold isn't easy. Oh no! It's dangerous and difficult... Just what will the two friends discover? Teeming with adventurous spirit and boasting wonderfully funny dialogue, this story introduces two unforgettable characters in a gorgeous, classic new art style from Viviane Schwarz, one of the most innovative and creatively inspired picture book makers of today.
Reviews
June
This is the story of Anna, her friend Crocodile, and their search for hidden gold. Searching for gold is difficult and dangerous, Crocodile points out, and they will need to be inscrutable, so no one will know what they are up to, and strong, so they can carry away all the gold. Having assured themselves that they have these skills, they create a map with a cross to show where the treasure is and set sail. Once they have found the gold, they clearly need some place to hide it so that no one else will know about it and they need another map so that they can find it themselves when they want to. Equally clearly, there is only one place to hide a map of such importance. Anna is an adventurous character; the more difficult and dangerous the challenge, the more she likes it. Crocodile, on the other hand, is a thinker and a planner and the dialogue between these two is very funny and engaging. The illustrations are bold and colourful but the text is always clear and easy to read. This would be a fantastic book to share with small children and use as a tool to encourage their own imaginative play. Picture book / Ages 3+ / Reviewed by June Hughes, school librarian.
Suggested Reading Age 3+
Other titles