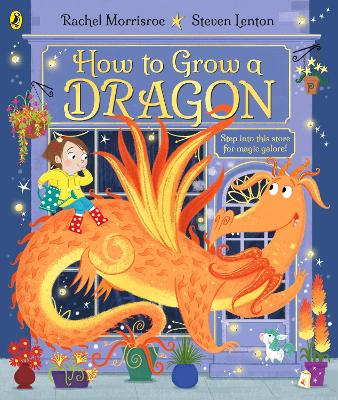 By Author / Illustrator
Rachel Morrisroe, illus Steven Lenton
Genre
Magical Realism
Age range(s)
5+
Publisher
Penguin Random House Children's UK
ISBN
9780241392256
Format
Paperback / softback
Published
27-04-2023
Synopsis
Join Sarah and Mr Pottifer in their magical plant shop, where fantastical creatures grow from trees!  A story that celebrates problem solving, kindness and resourcefulness.

An unexpected delivery of dragodil seeds provides the perfect chance for Sarah and Mr Pottifer to grow helpful dragon pets for their customers - or does it? It turns out that these fiery dragons are not very well-behaved at all... and everything soon spirals into smoke-filled, out-of-control DRAGON CHAOS!  Can Sarah's quick thinking and green fingers save the day?

The second magical adventure from the author and illustrator of the bestselling How to Grow a Unicorn.
Find out more from author Rachel Morrisroe
Reviews
Maria
If you love Llama Drama by Rachel Morrisroe you will definitely love How to Grow a Dragon. The front cover is inviting with a magnificent, orange dragon encouraging the reader to step in and start this story. The text is rhyming with lovely vocabulary choices and lots of fun! Steven Lenton's illustrations are magnificent, so detailed and perfect for the text. The text and illustrations were loved by the children and the hilarious antics of the dragons made them laugh out loud!
Picture book / Reviewed by Maria, teacher
Suggested Reading Age 5+
Lizi
Another book from Rachel Morrisroe set in Mr Pottifer's Parlour of Plants, How to Grow a Dragon is a magical story that will capture readers' imaginations! It's full of witty plant pun names, magical moments and funny bits to laugh at.
I really enjoyed sharing How to Grow a Dragon with my Preschooler for story time but also think it would be great for story times in larger settings - and with slightly older children who'll appreciate the names of the plants!
The illustrations are brilliant; they help to convey the meaning of the story and there's so much detail on every page. It doesn't matter if you haven't read How to grow a Unicorn as the story stands alone (but that one is a very good book too!)
Picture book / Reviewed by Lizi Backhouse, teacher
Suggested Reading Age 5+
Other titles