Interview with Blackbeard & Other Vicious Villains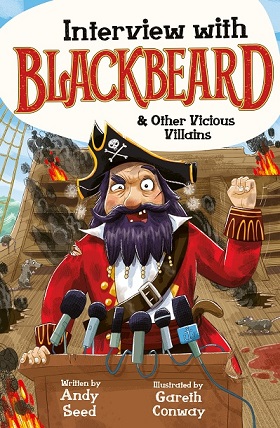 By Author / Illustrator
Andy Seed, Gareth Conway
Genre
Non Fiction
Age range(s)
7+
Publisher
Welbeck Publishing Group
ISBN
9781783128327
Format
Paperback / softback
Published
18-02-2023
Synopsis
If you could go back in time and talk to famous villains from the past, what would you ask?  Brave animal interviewer and author Andy Seed has adapted his incredible 'tranimalator' device into a time machine, allowing him to go back and talk to all kinds of figures from history! Get to know 10 famous villains who take a quick break from dastardly deeds to answer all sorts of (very nosy) questions about their actions and unique perspectives. Are they as wicked as we've been led to believe? Will Andy make it out alive? Discover the good, the bad, and the unexpected as each villain reveals the truth about their lives - and attempts to find out about the future!
In this fun and fact-filled book, bite-sized text in a question-and-answer format is paired with engaging illustrations, perfect for reluctant readers and humour-seeking history fans. Featuring interviews with Blackbeard, Ivan the Terrible, Nero and more - plus bonus facts about the time period and its events.
Perfect for fans of the Horrible Histories books, this series offers a fun, fresh take on history, featuring true stories from historical figures from across the world.
See also: Interview with Cleopatra & Other Famous Rulers 
Reviews
Jane
In Interview with Blackbeard and Other Vicious Villains, you will find the usual suspects - Nero, Ivan the Terrible, Bonnie & Clyde - but there is also a spattering of more obscure names, like Zheng Yi Sao and Victor Lustig. We learn (e.g. that Blackbeard's real name was Edward Teach and there's no evidence that he killed anyone) even as we enjoy the improbability of the unfolding scenes, and laugh at the corny, sometimes self-deprecating humour, which is ideally matched to the book's intended readership (Year 3 upwards, I surmise). Gareth Conway's black-and-white illustrations suit the comedic style perfectly too.
I liked the overall design, the clear font, the format easy-to-follow Q&A and the eye-catching cover. Each chapter ends with a 'What Happened Next?' paragraph, as well as other tidbits of information that will pique children's interest, and, where helpful, a map.
In common with the best non-fiction, the book concludes with a glossary, as well as offering a quiz for those who like a fun challenge. In short, I heartily recommend this title for the primary school library as a great way to extend the reach of History beyond the formal curriculum.
128 pages / Reviewed by Jane Rew, school librarian
Suggested Reading Age 7+
Other titles